Posted on :

October 3, 2018
Industry :

Corporate

Service :

Corporate

Type:

News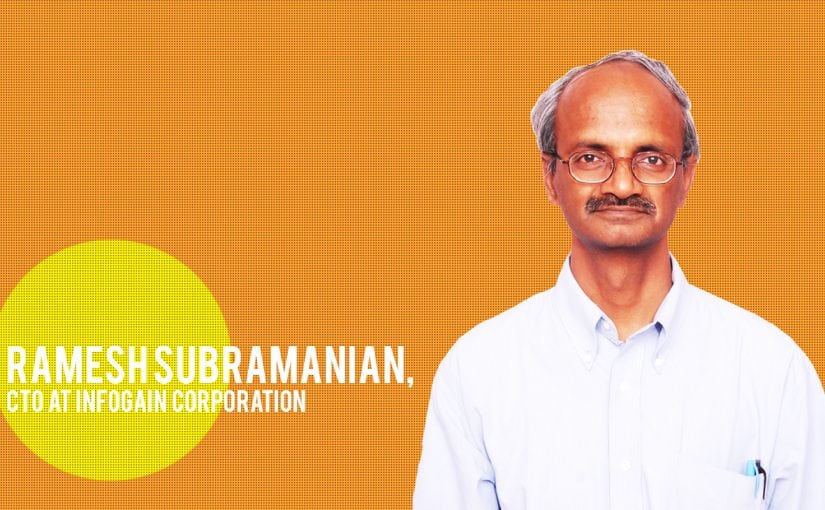 Amid rapid on-boarding of digital technologies like AI, companies like Infogain are providing their expertise in deep technologies such as big data, mobility, Robotic Process Automation (RPA) and cloud services, to deliver high value digital solutions. With their self-service analytics, data preparation platform, and significant investments in building engineering capabilities and alliances, they are committed to drive digital innovations. Their RPA practice has already helped organisations optimise current manual processes and create a roadmap for Intelligent Automation.
Analytics India Magazine caught up with Ramesh Subramanian, Chief Technology Officer at Infogain Corporation, who spearheads the technological development at the company. He dives into Infogain's digital transformation strategy, analytics play at Infogain, and much more.
AIM: How has Infogain helped in streamlining processes in various industries? Would you like to highlight a few use cases?
RS: In these days of agile and digital culture, the established wisdom seems to be that you don't need to streamline. You automate first and get the immediate benefits. One client in the travel and hospitality industry had 13 ways of accepting a customer order, all very time intensive. They tried simplifying it, which took six months of change management to get started. We automated each of their processes using an industry-leading robotic automation platform and what used to take between four hours to two days has been shortened to minutes.
An essential function in delivering applications is Quality Assurance. We have invested heavily in an automated QA framework, extending functionality from open source tools such as Selenium, to reduce test cycle times while increasing test coverage. We've incorporated AI/ML technologies to create predictive and cognitive testing functionality. In implementing our test solution at a very large travel industry distributor, we reduced their testing cost, timeframe and coverage significantly.
AIM: Tell us about Infogain's digital transformation strategy.
RS: As a client-centric consultancy, Infogain looks to adopt practical, high value solutions to bring to our clients. We Invest in technologies which have tremendous future promise, but can provide successful business outcomes today. Part of this strategy is also Investing in partnerships with leading platform and software providers in order to leverage their IP and services in our delivered solutions.
AIM: How has the emergence of platform-led enterprises changed the way of businesses?
RS: The emergence of platform-based computing creates tremendous value for organisations. The ability to outsource the challenges of building and maintaining computing and collaboration infrastructure to platforms such as AWS, Azure and Google, frees up organisations to focus more on their core businesses. It also provides tremendous flexibility. For example, an organisation can create a new division or business unit and spin up supporting systems very fast compared to former days when a new data-center would need to be built.
The platforms also provide a very broad range of application services, so organisations can extend their core systems and applications more easily with new functionality provided by the platform provider.
AIM: How is analytics central to various processes at Infogain?
RS: Analytics is core to all the solutions we build at Infogain. PAQ is a predictive analytics engine for quality is at the core of UAP, Unified Automation Platform, driving "Targeted Regression" by doing "Point of Failure Analysis".
AI/ML powered SmartSearch platform enables organisations enhance search relevancy and accuracy across Customer, Partner and Employee Systems. C-Engage, our framework for customer services and interfaces, has an analytics engine at the core that analyses data captured by the application to drive better targeted promo offers.
AIM: What does the technology stack at Infogain look like?
RS: As a consulting company, our technology stack is a reflection of our clients' environments. That said, we specialise in certain platforms and tools such as Amazon, Microsoft and Google cloud platforms, a broad range of analytical tools, from SAP, Oracle, SAS and Microsoft tools to open source tools. We also focus on Hadoop for big-data analysis. Much of our internal executive dash-boarding happens on data visualisation platforms including QlikView, Tableau, etc.
AIM: How do you think the analytics industry has evolved over the years? What are the various changes that you have witnessed?
RS: A few key points stand out. For one, the amount and type of data being analysed has exploded from earlier years, when highly structured databases were the only sources of information addressable. Now we strive, successfully to a large extent, to analyse data found in numerous additional sources, such as social data, unstructured content, IoT and streaming data etc. The quantity of data to be analysed has exploded as well.
Another key point is the democratisation of data analysis. Increasingly, end users can effectively use various analytical tools to do analysis and create reports and insights. This drives organisations increasingly towards self-service analytics.
Analytical tools have developed further to include predictive, prescriptive and cognitive analysis, incorporating artificial intelligence and machine learning technologies. Such technologies allow us to incorporate vast amounts of data, and perform near-human feats of discrimination, correlation and predictive analysis at scale.
AIM: What are the changes in technological implementations that you wish to bring at Infogain? What is the roadmap and growth story you foresee for the company?
RS: Infogain Is entirely focused on engineering business outcomes. This means from the beginning of our existence, we have been engineering-oriented, designing and creating new systems, applications and technologies for our clients. We are also business focused. Our engineering is always driven by business objectives, and we strive to produce compelling outcomes — increasing revenues, reducing cost and timelines, improving client satisfaction, etc.
AIM: What are the challenges that you face being at the tech forefront?
RS: A few key challenges come to mind. The first is the need to recognise our clients' readiness — both from a system standpoint as well as user adoption and processes — to adopt leading edge technologies. The second is recognition of the maturity of the tools and solutions we are Implementing. Are they leading edge or bleeding edge? How stable are they? How well will they integrate with existing systems? With our focus on business outcomes, we want to ensure that the solution will produce the desired results without too big a risk or support cost.
AIM: How has the spending on digital engineering by traditional companies changed over the years? How does the future look like?
RS: We have seen an acceleration in implementation of advanced BI and analytical tools and we expect that acceleration to continue. This is an exciting time in our Industry.
In summary, the existence and future promise of advanced technologies to create a digital transformation are compelling. However, deployment of these technologies must be carefully planned. This Is one of the value adds which Infogain can provide — our consulting leadership, based on many years of experience, to guide our clients to high value, effective and robust systems.