This is a time for organizations to show the human face and character while dealing with this pandemic situation.
Posted on :

June 25, 2021
Industry :

Human Resource

Service :

Corporate

Type:

News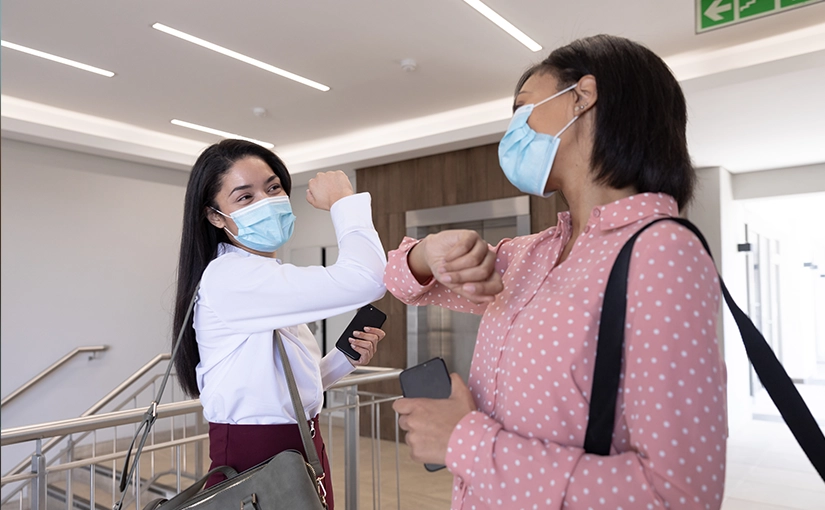 The following is an authored article by Rajiv Naithani, that appeared in People Matters. Follow this link to view the original article.
Backdrop
It has been more than a year since the first confirmed case of COVID-19 was reported in India. Since then, we have experienced two waves, the second one being the serious one with record breaking caseloads and fatalities. While we are still dealing with the second wave, the slower speed of vaccination and the probability of the third wave have already started causing uncertainty from lives and livelihood perspective. Amid all this uncertainty, the silver lining is that the recovery of the economy from the second surge is expected to be much faster than what we saw in the first wave of Covid19 cases last year. However, the risk of survival would still be a big risk given the health infrastructure situation in India.
In such a situation, corporates will continue to deal with two kinds of issues –
Employee well being from health and financial security perspective, and
Business continuity from sustainability and growth perspective.
The people and talent strategy today would revolve around these two important issues. This is also a time for organisations to show the human face and character while dealing with this pandemic situation. Organisations who put the people at the epicentre of its people and business strategies will eventually be in a better situation than others from a mid-term to long-term journey perspective.
People Strategy: building and sustaining a humane organisation
The recent surge observed in April and May months revealed the potential of health infrastructure in India. Sudden surge in the caseloads created panic across the country. There was a feeling of helplessness all over the country in arranging health and medical facilities. Corporates realised the need to step in to support its employees and their family members in their limited capacities. Focussed Employee Assistance Plans were rolled out, companies went ahead and procured medical equipment, medicines and oxygen concentrators to support those who were in need. Besides, big corporates were able to convert their office premises into the isolation/make-shift hospitals for their employees. Companies like Infogain introduced a 24x7 help desk as WeCare and provided all possible support to employees including arranging hospital beds, delivering oxygen concentrators/oxygen cylinders, medical equipment, medicines, arranging loaded ambulances etc. Saving the lives of employees and their family members became the priority. Providing financial assistance, leave adjustments, funding home-care treatment, sponsoring vaccination etc have now become part of the new employee benefits scheme.
For the first time in the employee benefits proposition, wellness and employee assistance plan became the key priority for the organisations. This will continue to remain so for next few years and companies will continue to sustain and improve their offerings around this.
The other proposition which has also become priority for the companies is related to a considerate decision on laying off employees on account of business impact. Companies need to be humane and need to empathise with people in such a situation. Industries struggling with business continuity will need to adopt creative solutions of salary rationalisation, time bound furloughs, incentive payouts readjustments, reduced working hours etc as options to layoffs. This is the best time for corporates to prove brand equity and employee first approach.
Business Continuity & People Engagement
One big change which the majority of Industries adopted since last year is the ability to deliver business continuity in a remote and work from home environment. This has been a significant change in the overall working models. It is expected that until vaccination is secured, we would not see 100% people returning to offices. Besides, the future working model for the organisations are expected to be hybrid. In the post-pandemic era, companies which never experienced work from home would offer remote working for certain roles to be a differentiated benefit to attract the right talent from outside. To ensure data security and maintain confidentiality of the IP and Information of clients and companies, stringent cyber security solutions would be adopted by the companies to deliver seamless business results.
This kind of remote/hybrid working model will help companies to deal with any exigency around surge in covid cases in a particular location by hiring employees irrespective of their base locations. Employees can be spread across the country and can continue to support business continuity. For Industries like Hi-Tech, this model has already started becoming part of hiring strategy. This also addresses issues around battling with the supply of talent in a particular city or region.
However, Hybrid working model may not be the perfect model for all. There would be challenges too. One of the biggest challenges would be the efforts in ensuring a sense of belongingness with the organisation. With increased remote working arrangement, employees will lose a sense of association with the organisation as they would have no or lesser opportunities to 'experience' office or other colleagues in person. This would require companies to adopt newer ways of engagement with the employees. The other issue would be redesigning the overall employee life cycle for catering to both segments of employees (i.e. employees operating from office and employees operating from home). It would not be easy for functions and the management team to set up any ad hoc discussion or calling everybody for an event or activity easily. While setting up something in person would help for employees working from the office, it would still need to be thought through how that would be replicated simultaneously for employees operating remotely so that their involvement and participation ensues.