Posted on :

January 18, 2019
Industry :

Travel and Hospitality

Service :

Corporate

Type:

News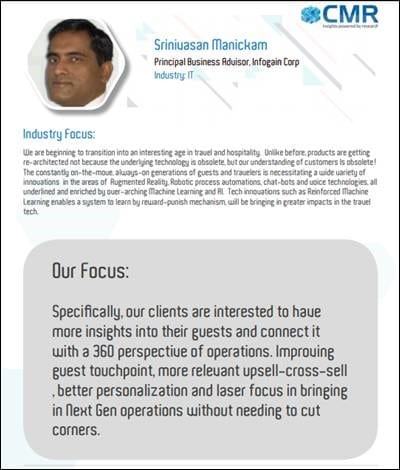 CMR's Technology Trends Dossier 2019 is a comprehensive and sweeping view of the transformative technologies that will shape the way enterprises operate in the next 2-3 years and specifically in 2019. Infogain participated in giving their views and focus on the T&H Industry.
Download the Report to read in detail: CMR-Technology-Trends-Dossier-2019
Infogain's inputs by Srinivasan Manickam, Principal Business Advisor, Infogain Corp Industry: IT
Industry Focus: We are beginning to transition into an interesting age in travel and hospitality. Unlike before, products are getting re-architected not because the underlying technology is obsolete, but our understanding of customers Is obsolete! The constantly on-the-move, always-on generations of guests and travelers is necessitating a wide variety of innovations in the areas of Augmented Reality, Robotic process automations, chat-bots and voice technologies, all underlined and enriched by over-arching Machine Learning and AI. Tech innovations such as Reinforced Machine Learning enables a system to learn by reward-punish mechanism, will be bringing in greater impacts in the travel tech.
Our Focus: Specifically, our clients are interested to have more insights into their guests and connect it with a 360 perspective of operations. Improving guest touchpoint, more relevant upsell-cross-sell , better personalization and laser focus in bringing in Next Gen operations without needing to cut corners.