Posted on :

March 1, 2019
Industry :

Digital and High Technology

Service :

Mobile Products & Apps

Type: Blog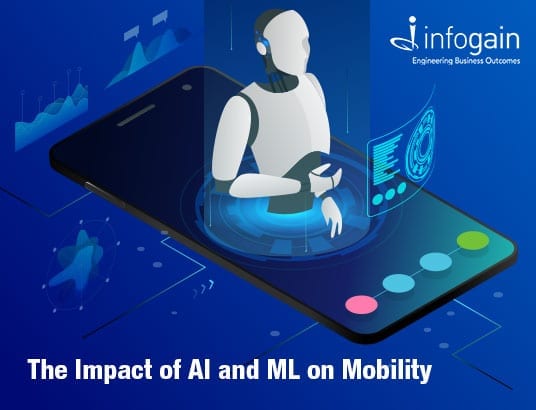 By Upakul Barkakaty, Global Practice Head of Mobility Solutions at Infogain
Mobility is no longer a fringe topic. Mobile devices have become an integral part of our lives. With the power and proliferation of high-end smartphones and tablets on the market, people are using laptops less for tasks which can be done through their mobility devices, including wearables, virtual voice assistants such as Alexa, Siri, and Google Assistant.
We are using mobile devices for everything from personal finance, shopping on Amazon and Flipkart to filling out timesheets and exploring company directories in the workplace.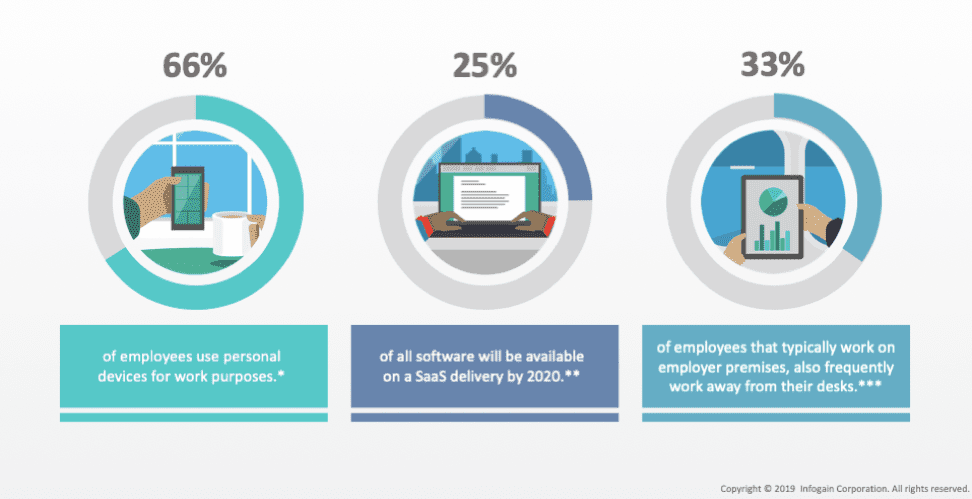 Enterprise mobility solutions are undergoing a seismic shift as well. AI, machine learning, and data analytics are transforming mobility from a mere transactional function to take on a more strategic role in the organization.
Defining AI
"A machine with the ability to perform cognitive functions such as perceiving, learning, reasoning and solve problems are deemed to hold an artificial intelligence"
Although the idea of AI is not new, the pace of recent breakthroughs definitely is. There are three main factors fostering this acceleration:
Computing Capacity: Advances are emerging beyond the current generation of central processing unit (CPUs) and Graphics processing units (GPUs). This capacity has been aggregated in high scalable data centers and is accessible through the cloud.
Big Data: Huge amounts of information (images, voice, video, location, sensor information) are collected through IoT processes and can be used to train AI models.
Machine Learning (ML): Algorithms have advanced significantly through the development of deep learning based on neural networks.
How is AI transforming Mobility?
AI and Apple's A11 Bionic Chip. Apple's iPhone X has introduced A11 Bionic chip. The chip contains a neural engine to power its AI features and applications like Face-ID recognition and Augmented Reality. How powerful is the A11 Bionic Chip?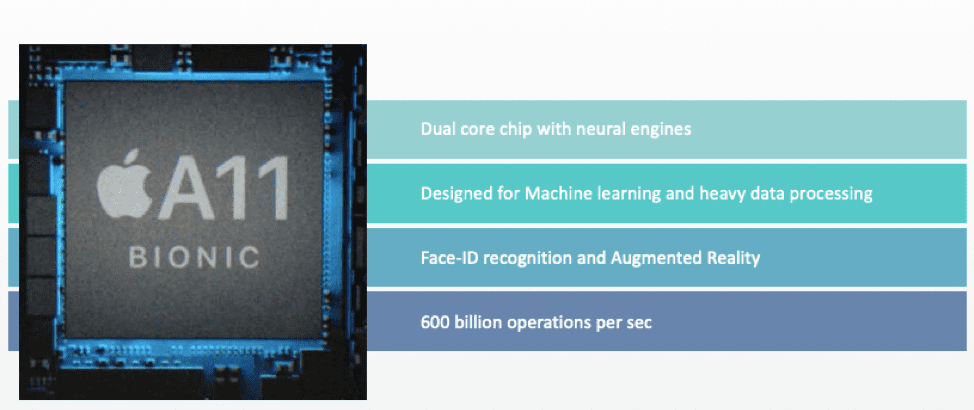 Samsung is also at work to add AI-specific CPU cores into its mobile chips, and San Diego chipmaker Qualcomm announced its Snapdragon 845 chip, which sends AI tasks to the most suitable cores thus enhancing operations for energy-hungry features.
Use cases for AI in mobile app development 
AI-powered solutions in mobile app development are changing the organizations modeling with innovative applications and solutions.
Empowering Search Engines - Artificial intelligence and machine learning have introduced a new way to use images and voice, unlike text mode.
Artificial Intelligence Combined with the IoT - AI lets your devices communicate with each other. AI is collecting real-time data. That data is processed so that devices learn to function on their own.
Smartphone Camera Are Getting Better in Subject Detection - By using AI, the interface of a smartphone camera can easily detect the subject in the camera frame. Amazon is already using this function. Instead of scanning a barcode, users can simply place an order by taking a photo of an object. Similarly, there are home design applications using AI and AR.
High App Authentication - With AI and ML, security concerns have been reduced by giving alerts to the users about possible threats and vulnerability by analyzing the user behavior
Virtual Colleague Chatbot - Meet Nysa, Infogain's virtual employee. She has answers to questions related to Infogain ecosystem 24x7x365. Nysa never asks for vacation time, she never complains about the food in the cafeteria, and most importantly, she doesn't ask for a raise!
Machine learning, on a global scale, makes mobile platforms more user-friendly, improves the customer experience, maintains customer loyalty, and aids in building consistent omnichannel experiences.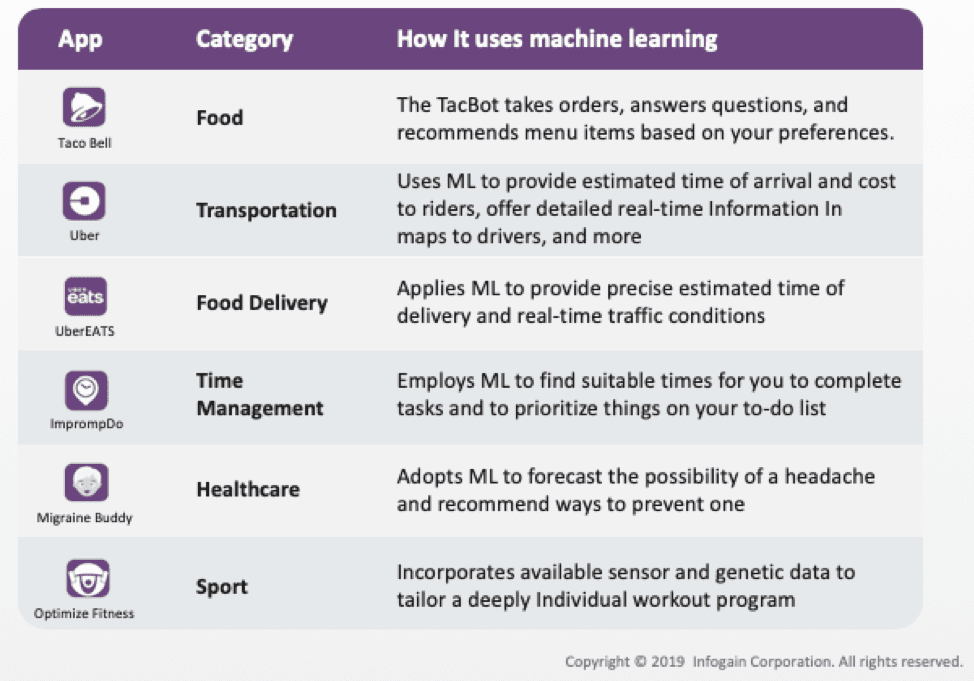 Six most lucrative use cases for machine learning in your mobile app.
Use-cases in the Insurance Industry
An insurance tech startup (Lemonade) based in New York City, processes claims within three seconds with the help of an AI-powered claims settlement bot. The bot verifies details of claims, and runs them through a fraud detection algorithm and passed instructions to the bank to transfer the claim amount.
Natural Disaster Management: Early warnings of a disaster can be determined with accumulated data related to a specific geographic location using remote monitoring tools to perform analytics with AI & ML.
Health Monitoring: Patients wearing health and fitness trackers can have their vitals continuously sent to the doctors or to the smart device manufactures with the help of IoT platform. That data can be processed to create advanced smart devices and better decision making for disease cure.
AI-powered tools and insurance: Natural language processing, machine learning, chatbots, predictive analysis, marketing personalization — a lot is happening in the insurance industry, and it's all being driven slowly by advancements in artificial intelligence. There is great potential for cost savings, product improvement, and improvements in customer experience.
Conclusion
AI, machine learning, and data analytics are transforming mobility, and their impact will continue to yield promising solutions, especially with the application of IoT.
With the impact of AI and ML on mobility, the possibilities are endless. If you'd like to learn how AI and ML can improve your mobility solutions, contact an Infogain Mobility expert here.