Posted on :

March 27, 2019
Industry :

Retail

Service :

Digital Transformation

Type:

News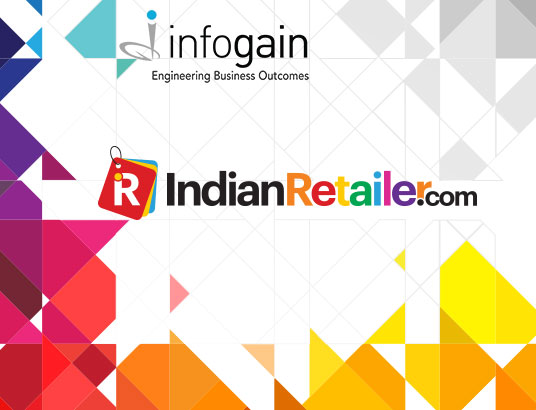 A guest article appeared in Indian Retailer Magazine, co-authored by Niranter Kumar Dubey, Delivery Head - Retail, Infogain, and Ashish Tripathi, Tech Lead-Mobility, Infogain. To view the original article please follow this link. 
mPOS transforms the in-store purchasing experience, leading to greater operating efficiency and reduced costs
In an era of strong competition, retailers are continually seeking ways to attract more customers with loyalty programs and other methods. With this in mind, mobility solutions for the retail industry have designed in-store experiences that contain interactive information of their items, including inventories and prices and promotions available at their customer's fingertips.
Mobile devices that contain retailers mobile solutions empower their customers with real time information. Real time pricing, availability and promotions on any product are instantly available without asking the sales associate.
Introduction TO Mobile Point of Sale (mPOS)
Mobile point of sale (POS) is an in-store solution for the stores to increase operational efficiency and reduce the cost of an additional sales counter.
Basically, mobile POS allows for customer transactions to be carried by a portable mobile device instead of a traditional checkout register.
Most retail stores and restaurants have a fixed point of sale, during the transactional stage when money is received in exchange of goods.
Today, most of the transactions are transpiring via credit or debit cards over the POS, which consists of a computer linked with machine, allowing the merchant to swipe/insert the chip and pin the cards. Whereas the mobile point of sale is hand held portable device that performs the same operation, with the advantage of working remotely for the same system.
Increasing the in-Store retail experience with mPOS
Typical brick and mortar stores are still needed, because their customer's desire the touch, feel, look and smell of merchandise. They must also compete with online brands and stores on price.  To retain their business, the merchant should offer a compelling in-store and online experience that provides value and convenience, so that the customers do not go elsewhere.
You do not know what a customer satisfaction fails looks like. If you want your customer to be excited about your brand, then you need to execute a strategy that enhances their in-store experience.
Mobile POS (mPOS) adds tremendous value and enhances the in-store customer experiences. Mobile POS  is not limited to the retail industry. It is applicable to many other industries like Travel, Hospitality etc.
mPOS Solution Key Benefits
Ease of Searching Inventory and Pricing
Sales associates can easily check the inventory and prices with the help of mobile point of sale, when asked by a customer. With the portable POS device, the sales associates can easily walk around in the store and can help the customer on demand.
Consultative Selling                                                                                                             
Sales associates have the capabilities for consultative selling with the help of Mobile POS (mPOS). They can discuss options with the customers in store and steer them toward a better product or items.
Sell Anywhere Anytime
Mobile point of sale is the key to facilitating the payment process and reduced transaction times. With mPOS, sales associates can complete the transaction when the customer is ready to make a purchase.
Queue Busting
With the help of mobile point of sale solutions, long waits at the checkout queue are a thing of the past. Customer satisfaction is increased due to the efficient transaction and payment process of mPOS.
Email Receipts
Since mPOS provides the digital records of the customer purchase, they can easily keep track of their purchase records.
mPOS is Versatile
mPOS solutions can be used as a cashier, return station or help desk.
Selling via Pop-Up Stores
Point of Sale solutions are not portable because of the connection to register and payment devices. In this case,it is difficult to increase sales via pop up stores. At pop up stores only the mobile point of the sell is the right option for selling the product. Sales associates can carry the portable devices which are connected with the server remotely with easy installation.
Secured Payment Process
The fully encrypted transaction is processed without storing the card data via mPOS. By usingP2PE (point-to-point encryption), credit card information is encrypted upon the initial swipe and then securely transferred to the payment process before being decrypted and processed.
Rewarding a Loyal Customers is Easy
It is easy to integrate the merchant CRM system such as loyalty with Mobile POS (mPOS). Loyalty benefits are given to the customer during purchases by analyzing the customer's profile and prior purchase history.
Locate the items in store
Mobile POS (mPOS) can provide to customers, real time information about the store layout and location of the Items with the help of BLE (Bluetooth Low Energy) and location based services.
Replacing Cash Register with Wireless Cash Drawers and Printing Receipts
Mobile point of sale can replace the cash register and work with wireless cash drawers and printers. The customer does not have the card, yet can make the payment once purchasing is complete. The customer can make the payment via cash with the help of sales associates over the wireless cash drawers.
Easy Payments
Mobile point of sale integration with Apple Pay, or Android Pay makes life easier for the customer during payment. Sales associates can simply tap their card from the customer or theirs martphones. Easier payment is achieved with Near Feld Communication (NFC)that contains card details.NFC technology increases the customer's  in-store experience.
mPOS creates more opportunities to sell and promotes customer centricity
Mobile point of sales solutions can handle omni channel touchpoints including"By Online", "Pick-up in store,"and "Placing orders" in addition to scheduling home delivery or delivery to any nearby store.
mPOS can be configured to process the return on the spot, giving additional opportunities for sales associates to enhance the customer experiences or make an additional sale.
Mobile point of sale allows retailers and merchants to place consumers at the center of their interactions, no matter where they are at in their shopping journey.
mPOS beyond Retail
mPOS is not limited to the retail sector. Mobile point of sale includes more than payment processing and extends beyond retail stores.Several examples include restaurants, health care applications, hotels and resorts.
MPOS is perfect for sporting and other events in fixed venues to avoid the queues and allows for payment at other locations,  mPOS may be used in similar fashion at conference and conventions in addition to outdoor concerts and festivals that take place at temporary locations.
mPOS solutions continue to experience strong growth with micro merchants. Many micro merchants operate with cash and check only because they cannot afford the high costs associated with traditional card processing equipment, processing and maintenance fee.
Adopting MPOS gives micro merchants a low cost solution and flexible pricing models that makes accepting credit cards feasible. At the same time, mPOS allows for larger retailers to gain efficiencies, while enhancing the in-store shopping experience for their customers.
mPOS transforms the in-store purchasing experience, leading to greater operating efficiency and reduced costs. Contact Infogain's mobility team today to learn how you can implement mobility in your organization.