Posted on :

September 10, 2018
Industry :

Retail

Service :

Blogs

Type: Blog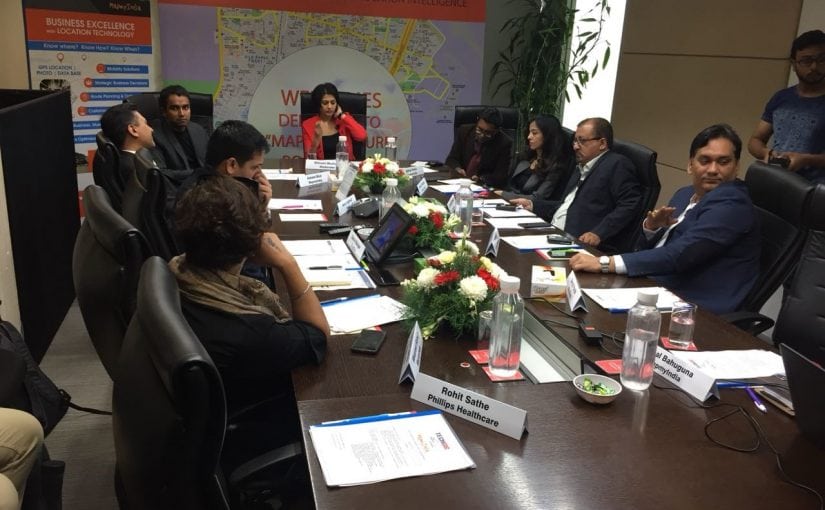 TechGig, India's largest tech community and MapMyIndia, India's leading geo tagging-based service provider, hosted an exclusive Boardroom Dialogue on Aug 23, 2018 in Gurgaon. The purpose of the event was to discuss the optimum use of location intelligence for FMCG domain. Dr. Hemen Goswami, VP Solutions at Infogain, participated as a panelist at the round table event which highlighted how location intelligence can become a crucial competitive advantage for FMCG/Retail & Healthcare companies in the future. Upakul Barkakaty, the head of Infogain's mobility practice, participated as well.
About MapMyIndia
MapMyIndia is India's leader in premium quality digital map data, APIs, GPS navigation, telematics, location-based SaaS and GIS Solutions. MapMyIndia's offerings include:
Map data solutions with cutting-edge location technology products and solutions in the areas of Navigation, Tracking, IoT and Analytics for products, services and solutions
Fleet Tracking & telematics which allows the monitoring of location, movement, status and behavior of a vehicle or a fleet of vehicles.
GeoAnalytics & Decision Support, using location knowledge to frame marketing efforts by adding location intelligence to business analytics provided valuable insights into where to pitch, open a new branch, penetrate a new market.
The main focus of the event was about applications within India with examples of how retailers use MapMyIndia's offerings for inventory replenishment and location, personalization, and location-based marketing campaigns.
Other location-based intelligence approaches that help businesses in India were discussed as well, including Unified Commerce, a business design that that leverages the integration of retail processes and systems to provide full transparency of consumers on the back end and seamless customer experiences on the front end, regardless of the journey taken to make a purchase.
"Retailers are making a transition from Omnichannel to Unified Commerce," said Infogain's Hemen Goswami, "Omnichannel talks about integrating brick and mortar but still at the backend it is diverse enterprise systems.  Unified commerce applies omnichannel to the system environment. The primary focus is to leverage data, captured from distributed sources and multiple channels, to ensure that the end consumer's experience achieves precedence over everything."
"An excellent example of Unified Commerce, outlined by Justin Guinn of Software Advice, a Gartner Company, looks like this:"
On the back end:
A Retailer tracks customer's movement throughout the store. RFID tags, shelf labels and perhaps even computer vision and other sensors communicate with a newly designed consumer app on the customers' phone.
Retailers can record products that a customer looks at, picks up and even carries around but doesn't purchase. Interaction with these products will be stored with previously in-store and online interactions.
Past recorded interactions with similar products will prompt a targeted social campaign that features the product(s) in question in an Instagram post. The post includes a link to purchase that opens the retailers' app to the checkout screen with the item in customers' cart.
On the front end:
Customer revisits a physical store, browsing products on shelves while looking at special in-store deals featured in the store's app.
Customer picks up a few products, even carries one around for a while, but doesn't make a purchase.
While browsing Instagram later in the same day, the customer sees an ad for the product that was almost purchased. There's a link in the text of the Instagram post stating the customer can get the product for 10 percent off the store price by clicking the included link.
Customer clicks the link in the Instagram text and it prompts the retail store's app to open. The app opens directly to the checkout screen and features the product in question already in the cart. Related items are listed below that can be added to the cart with one click.
The customer adds two of the related products to the cart and purchases them with the original product in question. The customer receives a message on the store's app confirming the purchase and asking if the customer wants to receive a 5 percent-off coupon for use in-store by sharing a notification about the purchase across social channels or directly to contacts.
While intelligent location-based processes for marketing and operations are promising, executives at the Board Room Dialogue discussed the challenges that exist:
Internet connectivity issues, particularly in smaller ("tier 2"" and "tier 3") cities in India.
Location information that comes in a convoluted form.   In broad terms, retailers need to obtain the location information, then link it to their customer records, then get insights, then use the insights, then execute targeted actions accordingly.
The struggle to use data to get intelligence.  Proper data modeling is needed, as well as data scientists who can use the data to build the intelligence.
Determining which devices to use to capture location information, including electronic GSM devices, Radio Frequency Identification (RFID) tags and receivers, GPS satellites.
Standard governance.  Location is closely connected to IoT, and location info comes from IoT devices.  We must insure privacy and make sure that government regulations are respected properly.
The event was a great opportunity for participants to collaborate with C-Suite executives and thought leaders from the leading FMCG/Retail & Healthcare industries about driving growth factors, process innovation and technology adoption for tapping growth in both urban/ rural markets.
Infogain's Unified View platform enables Data convergence and data regulation in conjunction with IoT and location-based solutions. Contact us to learn more.