Posted on :

November 8, 2018
Industry :

Retail

Service :

Software Quality Engineering

Type: Blog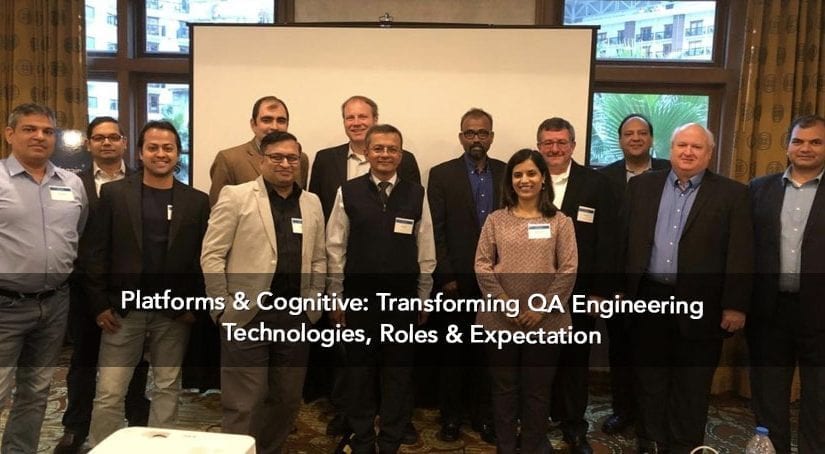 Infogain, in partnership with IDC, hosted a roundtable for a select group of CXOs, senior executives and IT leaders on October 18 in Dallas. This exclusive group of executives shared the ways in which they are driving technology-related initiatives within their organizations.
It was an extremely constructive event as participants, including Infogain's solutions leadership, discussed key topics including QA Transformation, the benefits of test automation, cognitive technologies, enterprise adoption, and industry trends. In addition, participants brainstormed challenges and shared success stories.
Peter Marston, Lead Analyst at IDC gave the keynote presentation and was also the moderator of the roundtable.
Below are central takeaways from the event.
      I.Preparing for the next generation of QA
Peter Marston's keynote presentation provided an overview of the impact of automation on QA and enterprise business value. Automation = speed and dramatically reduces the time of business processes while increasing the utilization of storage, systems/servers to 80% of capacity. Automation also reduces the time responding to an event-driven situation such as a security breach, a product recall or competitive situation effectively enhances risk management.
Marston's presentation prepped the roundtable for a lively discussion as he asked participants to consider how their businesses will change in the next 5 years:
How many 'distinct/unique' business applications now and in 5 years?
DevOps strategy and capabilities?
Architectural Preferences?
Deployment of Releases?
Marston's conclusion: QA will grow more complex in the future, but there are ways to be successful as QA evolves.
Marston also urged IT leaders to:
Identify their future QA state
Assess internal capabilities, gaps, and maturity levels
Establish, cultivate, and groom your partner ecosystem
Explore next-generation services contracts
Adhere to best practices.
    II. Mitigating risk in tomorrow's software architecture
Vikas Mittal and Nishith Mathur, solutions leaders for Infogain, followed Peter Martson's presentation, digging deeper into the future of QA by sharing Infogain's strategy for the future. They raised the importance of thinking of QA as an enabler of Customer Satisfaction rather than mere "Defect Finding".
What is holding businesses back?  The pace of application delivery demands has accelerated, so QA organizations need to ensure proper test case coverage across functional, regression, usability, integration, performance and security testing.
Advanced testing frameworks and toolsets coupled with data analytics offer the best solution to meet this need:
BOTS for automating Test Infrastructure & Test Data
A Test Automation Engine
This is the framework of Infogain's Unified Automation Platform (UAP), an advanced test automation framework designed with Agile and DevOps development frameworks.
Through Infogain's UAP platform, BOTS and Test Automation achieve:
50%-80% reduction in annual regression spending
Adding Intelligence to Test Automation reduces spending by another 50%.
What is the key to design of a successful intelligent design? Frame and address the challenges: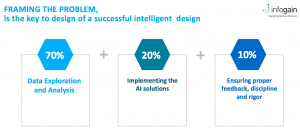 Vikas and Nishith's s presentation was followed by examples of Infogain's UAP in action.
One of our clients is a leading technology solutions provider to the nearly US$8 trillion travel industry, and the world's largest provider of airline and hotel technology. Their challenge? The continuous growth of test cases and frameworks, tools and technologies, led to regression suites that were hard to scale, costly to maintain and slow to execute.
Infogain's UAP was implemented and achieved increased regression coverage, a 50% reduction in execution time with quicker execution time at lower costs and minimally invasiveness to existing investments, and the key achievements being:
Mainframe monthly regression duration was reduced from 2 weeks to 5 days
Effort was reduced from 1,400+ hours to 321 hours
Above all, with the addition of Intelligent test automation, UAP and test framework are scaling to Next Gen Platform needs:
MicroServices Testing
DevOps Ready
Contract Testing
Standardization of test data, expandable across platforms (Golden Data set versus local data)
Infogain's Quality Assurance solutions combine automation with intelligence to help enterprises deliver products that are error-free and in line with customer expectations. Our Agile approach enables organizations to achieve speed, efficiency, and accuracy while adopting a proactive approach to development. Learn more about Infogain's UAP platform here.
Contact us today and learn how we can help reduce costs and deliver a better-quality product with Infogain's UAP framework.