Posted on :

November 14, 2018
Industry :

Corporate

Service :

Digital Transformation

Type: Blog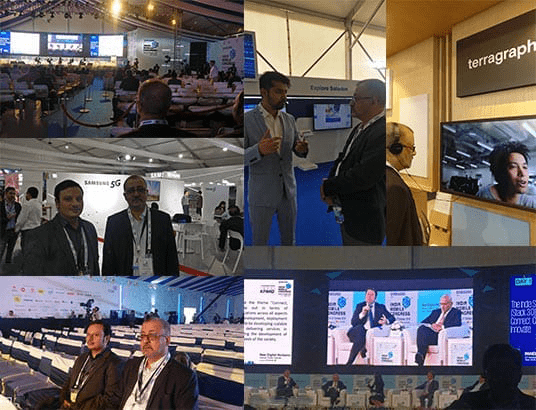 India to occupy a prominent place in the mobile technology evolution.
This was one of the many topics explored at the second India Mobile Congress (IMC) which took place on October 25-27th 2018 at Aerocity, Indira Gandhi International Airport, New Delhi.  Infogain's Hemen Goswami and Upakul Barkakaty were in attendance and had the opportunity to meet with a number of fellow experts in digital technology.
Here is a quick summary of what stood out for them at this incredible event.
Connect. Create. Innovate- India Mobile Congress (IMC) 2018 was only the second edition bringing together international industry experts, policymakers and regulators from partner countries in the ASEAN (Association of Southeast Asian Nations) and BIMSTEC (Bay of Bengal Initiative for Multi-Sectoral Technical and Economic Cooperation) regions to learn from each other.
The IMC event provided hands-on experiential technology zones, with live demos with companies showcasing next level of drones and how they can combine with 5G to enable diverse applications (Ericsson), displaying Connected Coolers, Connected Cars, Health Cube and Smart Solar in action (Vodafone), use cases of 5G for India (IIT and JIO).
The discussions were insightful and IMC 2018 focused on four broad categories:
The networks of the future: 5G
The telecom industry will install 1 million more Wi-Fi hotspots in the next 12 months, taking it to 2 million. Interoperability across different WiFi networks will enable a smooth experience for subscribers across India. Besides offering consumer delight, this industry initiative will also create additional 3,000,000 jobs.
Technology is shaping human lives (Facebook's Terragraph)
Terragraph is a 60 GHz, multi-node wireless system focused on bringing high-speed internet connectivity to dense urban areas. Utilizing commercial off-the-shelf components and leveraging the cloud for intensive data processing, the Terragraph system is optimized for high-volume, low-cost production.
Enhancing consumer experience 
Samsung Electronics showcased its 5G solutions the many ways emerging technologies and user-centric 5G networks will transform homes, stadiums, streets, farms and more. At their booth, they demonstrated how 5G-powered business models and scenarios can shape India's digital future in the years to come. In addition, Samsung announced its plan for India's first large-scale 5G trial, scheduled to take place in the first quarter of 2019 in collaboration with the Department of Telecommunications (DoT).
Building a startup ecosystem
One question that pops up is 'How new technologies impact legacy industries?'. One example is AgriTech, applying modern technologies to the agricultural sector with a view to enhance produce, efficiency and revenue. The concept extends to any applications, practices, products, and services that enhance any aspect of the agricultural process, be it an input function or the output received. Hydroponics technology, for example, can be used to grow fruits and vegetables throughout the year and this soilless method of crop production helps protect against the ravaging effects of changing climates.
AgriTech can also be applied to the associated sectors of aquaculture and horticulture. At the conference, expert panelists discussed the different technologies that can be used by TechFARMERS.
Key Takeaways from India Mobile Congress (IMC) 2018
Mobile technology evolution will be big and centered for India.
India is the world's #1 Internet data consumer, ahead of the US and China combined, this only going to grow and continue.
`The India 2.0 is going to be based on "Connected Everything". The theme is going to impact social welfare projects, such as telehealth, rural healthcare ecosystem, and education. The success of this mission depends on network infrastructure, AR/VR/AI driven technology, seamless UX experience, and contributions from the mobile app development community.
Infogain provides innovative technology solutions in the digital transformation space. Talk to us today and accelerate your company's digitalization process.