Posted on :

March 7, 2023
Industry :

Corporate

Service :

Experience Design

Type: Blog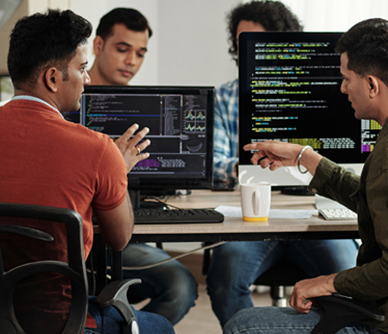 We pioneer how brands create digital products, so we're constantly looking for ways for our customers to be more adaptive and responsive as the expectations of their customers evolve. We recently held an internal hackathon to find ideas that leverage composable architectures, data, and AI to drive deeper connection, revenue, and growth.
Fifty-five employees in fifteen teams entered, then seven teams were short-listed to present to a panel consisting of Vikas Kamran, Vamshi Gunta, and Ashish Khandelwal in Bangalore on February 16. The winning teams solved problems that many content teams are tangling with today:
Can page load time be reduced using Adobe AEM and Adobe IO?
The first-place team identified a way to reduce page load times from about 5 seconds to just over 1 second by using Adobe AEM and Adobe IO. This creates a more robust user experience that drives conversion—typically 3x higher than pages that load in 5 seconds and 5x higher than pages that load in 10 seconds*. This solution has reusable architecture available to all Infogain customers.
How can I use ChatGPT in my AEM environment?
The second-place team built an auto-generate function that creates content and metadata for omni-channel marketing. This solution gives writers a co-pilot as they create campaigns, increasing the speed of their work and giving marketers more time to plan. It won't replace years of marketing skills and experience, but it can give brands a head start on producing amazing content. It leverages Open AI API and works with Facebook and Email. Infogain also has plans to expand it across CMS and other social platforms.
How can I use Open AI for images?
The third-place team leveraged Open AI API and a custom component in AEM sites to generate and integrate images based on natural-language descriptions in minutes. This gives time back to marketers by reducing or eliminating the need for lengthy image search and approval processes, expensive photo shoots, and time-consuming retouching. It also gives designers and art directors a co-pilot as they create campaigns, saving even more time.
Contact us to learn how you can leverage Adobe products and our engineering talent to make more authentic connections with your customers—and drive revenue and growth for your brand.