Posted on :

September 30, 2020
Industry :

Corporate

Service :

Data Platform Modernization

Type: Blog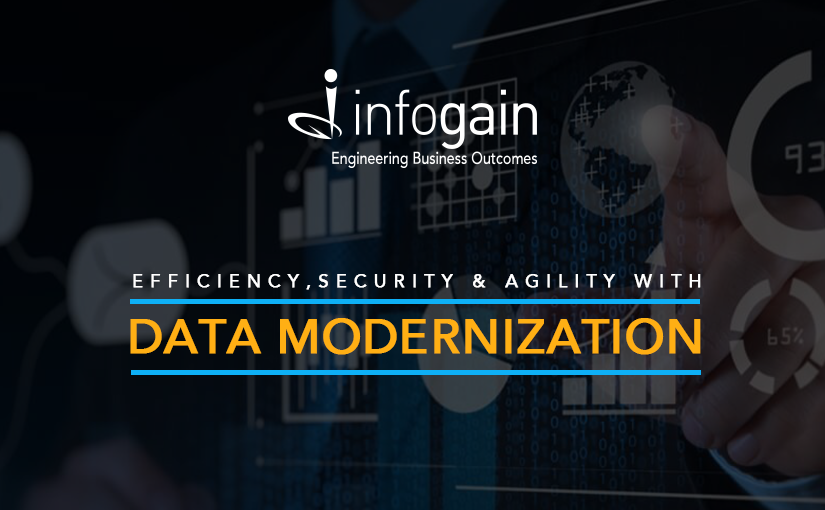 The deluge of data from a world of connected people and things has driven the demand for modern data landscapes and advanced analytics to transform data into rich enterprise assets that can be used to generate positive business outcomes. Thanks to advances in technologies, the new data landscape is no longer constrained by limits on volume, structure, and timing.
Especially in times of uncertainty, the success of any organization is contingent on its ability to adapt to changing landscapes, both functionally and technically - this includes the way you source, profile, analyze, interpret, store and consume information or data. A flexible, agile, scalable, efficient, and effective data and analytics platform that is as modern as these new and modern times are, is the need of the hour. The focus of modernization today is more about remodeling the organization to address specific business goals, and not confine to pure-play cost reduction and technology play to stay relevant. Hence, focusing on aligning to a cloud-first strategy by consolidating disparate solutions becomes key to re-prioritize digital transformation from optional to vital.
Data modernization is the process of moving siloed data from legacy databases to modern cloud-based databases or lakes. Data modernization allows organizations to be agile, eliminating inefficiencies, bottlenecks, and unnecessary complexities surrounding legacy systems. A modernized data platform is one that provisions efficient data migration, speedy ingestion, scalable and optimized storage and advanced interactive near real-time analytics, self-service discovery, and exploration enabled by good data governance (inclusive of master data management, data quality management, metadata management, data cataloging, and the likes).
Modernizing your data is the fastest way to turn your organization into an analytics and data-driven one.
Modern Data Platforms:
Give users a cohesive view of data from multiple sources, make data available throughout an enterprise to those with proper permissions, and improve data governance.
Provide employees within enterprise access to the right data at the right time, without delays in processing a volume of data or data requests.
Allow businesses to manage their data governance strategy better. This can include what data is collected, who can access it, and when data has 'expired' according to data protection and privacy regulations.
Deliver a single point of access via modern authentication tools, such as SSO, to ensure authorization for your users. In this way, you can easily keep track of who can access data via the platform.
Bring data together from multiple sources, bridging organizational silos for more collaborative and effective decision-making.
Provides the organization with benefits such as lowered Costs, democratized data, reduced latency, increased speed of access, dynamic intelligence and analytics, accelerated time to market, and much more.
For questions and comments, or to speak to an expert, contact us
here
.