Posted on :

October 13, 2020
Industry :

Retail

Service :

Cloud Services

Type: Blog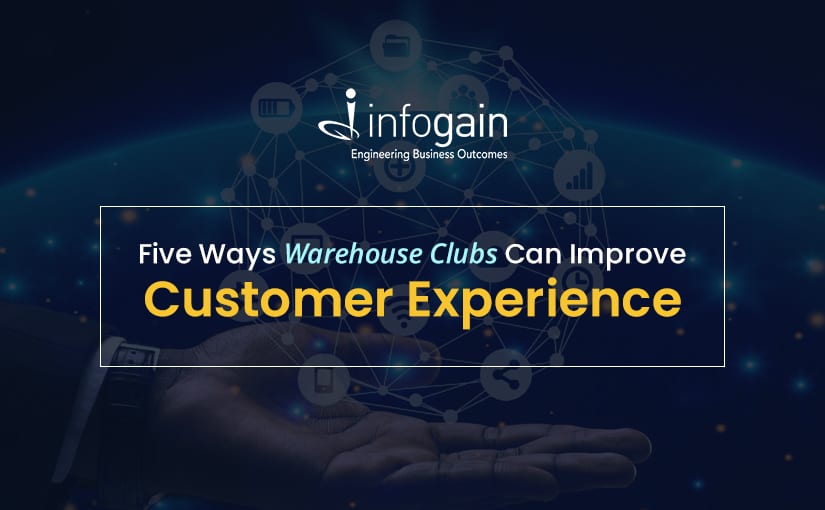 There is no doubt that e-commerce has transformed retail.  Consumers expect to find the products they want both in-store and online, to use technology to make purchases with the swipe of a finger, and to have their purchase delivered to their doorstep the very next day. As a result, warehouse clubs must continually seek ways to improve the customer experience to retain loyal customers and drive revenue. Here's how:
Embrace Cloud Technology
Knowing how your customers behave creates the opportunity to reach them easier and in a more individualized fashion. Through data stored in the cloud, customer behavior can be analyzed and segmented based on the interactions they have with a brand, whether in person or online. A cloud-first mentality yields other benefits as well. By creating new processes to work in the cloud, Warehouse Clubs can focus on providing a better customer experience.
Take BJ's, for example. They are a warehouse club chain based in Westborough, Massachusetts. In their quest to further improve member experience and provide convenient shopping options, BJ's underwent a cloud transformation to improve the functionality of both it's brick and mortar and online operations to provide a more personalized shopping experience for members. Their initial goal was to migrate applications and systems to the cloud to reduce its data center footprint. Those goals expanded to improving agility, to help IT respond to infrastructure requests faster, to replace heavyweight back-end applications with nimbler ones in the cloud, and to be able to innovate faster by leveraging cloud-based solutions.
Another example is Costco, a cloud partner with Microsoft Azure since 2017. Costco has been persistently adapting itself to leverage cloud services and transforming key operations onto the cloud platform.
Build an Efficient Supply Chain
Warehouse Stores such as Costco, Sam's Club, and BJ's run extremely efficient supply chains stocking a limited number of products. BJ's carries 7,200 SKUs, Costco carries 3,700, and Sam's Club carries between 6000-7000. That's compared to an average supermarket that carries an average of 40,00's SKUs.
Other efficiencies in the supply chain include buying products directly from manufacturers and arranging delivery to 24 depots. At Costco and other Big Box Stores, these products then go warehouses using cross-docking techniques, a logistics system (Costco's recent acquisition of Innoval) that aims to optimize shipments to stores from distribution points with minimal storage time. This approach reduces the costs of a multi-layer distribution system.
Using Technology to Deliver Multi-Channel Customer Experiences
Shoppers love their mobile devices and use it for a variety of channels. Sam's Club has a tech hub in Dallas, referred to as Sam's Club Now, where the company's Scan & Go technology was tested before being implemented nationwide. Customers use their mobile phones to scan the barcode on products while placing them in their carts, and a receipt is tallied as they shop. On Sam's Club's app, customers can have their digital membership card, use Scan & Go, and get scanned out as they leave the Club. There's no need for paper since the process is entirely digital. Sam's Club also integrated the "where to find the item in the store" solution.
In addition, Sam's Club has modernized; it's In-Store Pickup service now known as Club Pick-Up. The service allows customers to build and save shopping lists online and place the order with Sam's Club. When they are ready to pick up their items, customers can use the Sam's Club app to alert the retailer that they're on their way.
Embrace e-commerce—your way
Warehouse clubs have been placing a greater emphasis on e-commerce, and omnichannel capabilities, including developing same-day and two-day grocery delivery, rolling out buy online pick up in-store (BOPIS) services, and opening e-commerce fulfillment centers.
At Sam's Club, e-commerce generated 4.7% of total net sales in the year ended January 31, 2019.
While most retailers are radically reshaping their strategies to contend with Amazon, Costco is focused on perfecting what's been working for four decades. Competitors have invested heavily to bolster their online presence, and Costco has as well but remains focused on enhancing its in-store shopping experience. "We don't want [customers] to get comfortable at just shopping at Costco online unless there is not a Costco within 100 miles."
Despite the slow and steady approach to e-commerce, Costco has seen extremely strong growth in online revenue. The company's e-commerce sales jumped 23.3 percent in its last fiscal year, and it's one of the top 10 online retailers in the United States, capturing 1.3 percent of all retail e-commerce sales. Believing there's a lot of traction to be gained online, Costco has started turning several of its closed stores into e-commerce fulfillment centers and are adding lockers to its stores to make buy-online-pickup-in-store more efficient.
Whatever the strategy, warehouse clubs need to balance in-store operations and e-commerce to support long-term growth.
Micro-fulfillment
Micro-fulfillment is an emerging technology designed to help retailers respond to increased consumer demand for rapid online order fulfillment while taking up a smaller amount of space than traditional fulfillment centers. It combines the speed of local delivery associated with in-store order picking with the efficiencies of robotics fulfillment from large automated facilities.
"We're driven to make shopping at Meijer easy and convenient, so micro-fulfillment is another way our company is leaning into the future of retail," said Sid Handa, Director of Strategic Supply Chain Initiatives for Meijer. "This micro-fulfillment technology will allow us to maximize space in our stores, help us expand our online shopping options, and ultimately keep pace with consumer demand for personalized shopping solutions that put their shopping preferences first."
At Infogain, we provide Azure App Engineering services to build modern applications, modernize existing applications, or to migrate applications to Azure Cloud. Our services aim to achieve optimal cloud adoption benefits for applications based on business criticality, complexity, and cloud suitability of apps.
For questions and comments, or to speak to an expert, contact us
here
.