Women are not limited by anything. So many successful women in each field have carved ways for the future generations
Posted on :

March 10, 2021
Industry :

Corporate

Service :

Corporate

Type:

News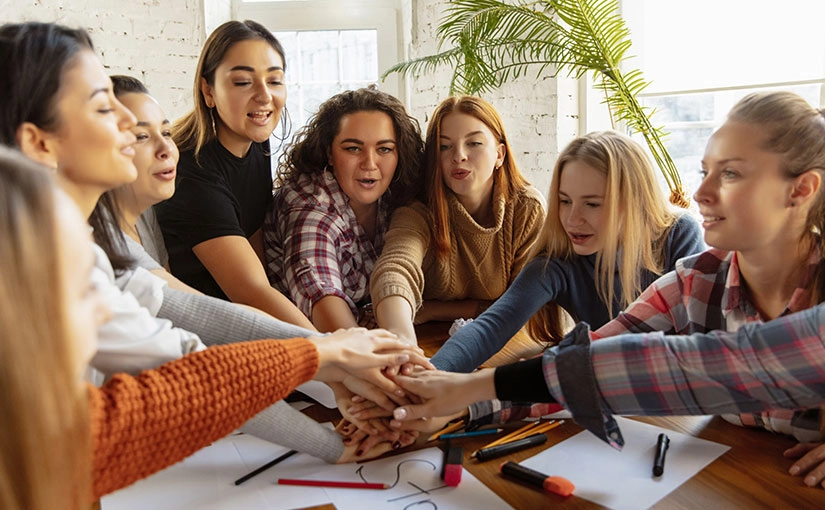 The following article appeared in People Matters on March 6th, 2021. Follow this link to view the original article.
The information technology sector has made tremendous leaps and bounds over the years. The historically male dominated workforce has been led by iconic personalities as founders and CEOs. But with progressing times, more women are now choosing technology as their forte and leaving a mark on many levels. Many organizations are offering increased opportunities to women.  However, a lot more effort is required to achieve an equal opportunity space.
Leadership Opportunities
Women are receiving more leadership opportunities compared to years past. From executive-level to senior leadership, we see women holding the fort across departments – Finance, Operations, HR, and Delivery. However, there is still room for growth in women's presence across boardrooms. In a survey by NASSCOM, 88.5% of tech companies reported that less than 10% of their C-Suite is female and 80% companies had less than 20% females at senior management levels. Sometimes, women's power of empathy is considered as their weakness and they are perceived incapable of taking tough decisions. However, more and more people have now started recognizing this characteristic as a strength.
Women are not limited by anything. So many successful women in each field have carved ways for the future generations and are continuously breaking all the barriers. The right skills should be acquired for the chosen profession, along with a zeal for steady learning of the technological advancements to remain relevant.
Developing skills from the start
To instill a belief that the tech industry is a place for women to work and succeed, the issue of gender stereotypes needs to be addressed long before women enter the workplace. It needs to start at school, to engage and encourage an interest in IT and tech fields. Girls need to see the IT professionals as ordinary people with diverse skillsets and abilities, and that anyone can aspire to join the tech space.
An Increasing number of women are now opting for professional courses in the fields of Engineering, Financials, Manufacturing and Healthcare. However, according to the All India Survey on Higher Education (AISHE) report, the share of male students enrolled in engineering and technology is 71.1% compared to female enrolment, which is just 28.9%.
Improvements in gender equity
Global security company Kaspersky revealed that 56 per cent of women in the tech industry have seen levels of gender equality improve in their organization over the past two years, with a further 70 per cent agreeing that their skills and experience were considered ahead of gender when applying for their first role in IT or tech.
Many companies are also beginning to introduce quotas that guarantee more equal representation across workforces. More than just adding numbers, they are designed to increase the likelihood of altered behaviors and reduced sexism in workplaces – with more women reaching senior positions, and the creation of more role models who can share positive career experiences to young women interested in entering the tech space.
Companies are also implementing blind hiring practices to remove personal biases from the talent acquisition process. This includes removing identifying information from applications, amending the language in job adverts to eliminate sex-bias in favor of male candidates, training recruiters to eliminate bias from hiring processes, and using diverse hiring committees instead of individuals.
While we are well on our way to bridging some aspects of inequality, there is still a long way to go to achieve gender pay parity across roles – including boardroom employees. A World Economic Forum showed that the gender gap runs deep; and globally we are still many years away from experiencing equal pay opportunities for men and women.
Work-life balance
There was a time when women had to choose between their family and work. It has been an industry norm that while men and women start their careers in IT companies in India at similar ages, men in senior positions are often younger than women at similar levels. This suggests that women who have taken career breaks or chosen part-time work take longer to move up.
This past year has brought an evolution in the work-life balance of female employees. Some women are rejoining their companies faster than usual after a maternity break because they are working from home. The work-from-home scenario has leveled fields. Women have emerged as true avatars.
In addition, organizations are now more receptive to the needs of women, offering them greater flexibility to juggle their work and personal life. Infogain, for example, offers policies like work from home for work life balance, creche facilities for childcare support, and extended maternity leaves as per the government norms.
A growing number of companies, Infogain included, are changing their learning programs to enable women returning from breaks to join the mainstream. Some companies are also having special recruitment drives targeting women for coming back to work after break. Even some external agencies in countries like Canada and the US have programs for women in tech to develop their skill gap and bring them to the workforce.
Rules to live by
Do what you love, love what you do, and do not regret your choices.
Be strong and take ownership of your fallacy as well as merit.
Enjoy all the ups and downs which comes with the package called "Life".
Never give up; bouncing back is difficult but not impossible. Believe in yourself and the world will believe in you