Posted on :

December 21, 2016
Industry :

Digital and High Technology

Service :

Digital Transformation

Type:

News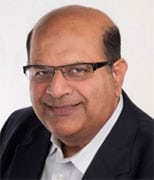 "In an exclusive interview with ITVoice, Mr. Prashant K. Karnik, Senior Vice President and General Manager Hi-Tech Business Unit, Part of the Board of Directors at Infogain., reveals his strategies for business in India…"
Interviewer:- Tell us more about Infogain?
Mr. PK Karnik:- Infogain is a leading IT solutions provider with strong focus on new age digital technologies. We provide digital transformation of customer-facing technologies & consumer facing interfaces, processes and applications, leading to a more efficient and streamlined customer experience. Infogain has close to 4000 employees and 9 delivery centers across US, Europe, the Middle East, Asia Pacific and India. Infogain specializes in areas such as software product engineering, digital service automation, cloud, mobility, testing and business intelligence & analytics. Infogain has a customer retention rate of 90%+ over a five-year period.
Interviewer:- What are your strategies and future projections for the Hi-Tech business?
Mr. PK Karnik:- As any other sectors, the Hi-tech business is also facing the challenges of a digital era – Independent Software Vendors have to outsource a chunk of their work to stay relevant today. The concept that the Engineering Service Providers (ESPs) will simply offer tactical engineering support to Independent Software Vendors (ISVs) and Original Equipment Manufacturers (OEMs) is no longer valid today. ISV's need to re-define their product strategy, to roll-out faster to the market, they have to adopt agile methodologies. Also there is a need to provide Product as a Service (Paas), which means the application need to be maintained at the ISV's end. Today Product Engineering Service (PES) providers are helping ISVs to develop superior products and speed time to market keeping pace with digital demand. This provides excellent opportunity for software companies like Infogain which can provide a modern set of technologies and processes to develop and run software solutions. We can help them optimize costs by providing dual shore agile teams, they can go faster time to market with our reusable frameworks and accelerators. Our experience in new platforms will help them to develop and re-invent products with latest technologies.
"Infogain has extensive experience in Outsourced Product Development with a dedicated High Tech team size of 700 people and serving more than 30 clients."
Interviewer:- How is the product engineering services evolving in the digital era?
Mr. PK Karnik:- Earlier companies were reluctant to extend their carefully guarded R&D process to an outside partner. While they used to outsource software development and testing processes, they had internal teams for R&D strategic planning, technology planning and intellectual property. This scenario is now changing completely with shorter product cycles, faster shipping speed, unforeseen competition, mass standardization (and modular customization for multiple markets), shrinking R&D budgets, customer-driven experiences, disruptive technologies and the need for a global talent pool, ISV's today are more and more dependent on IT vendors. Given the complexities of disruptive technologies–smart products, mobility and analytics – outsourced PES are helping ISV's speed time to market, reduce costs, ensure high-quality development based on the most advanced technologies, reach global markets and increase productivity. Today's product development means constantly watching competitors on a global scale, spotting emerging technologies aimed at meeting customer needs, and acting on this information with rapid development.
Interviewer:- Tell us more about your client base?
Mr. PK Karnik:- We have a strong clientele across our key verticals – servicing 5 of the world's largest 50 companies, and 24 of the Fortune 500. We have million-dollar engagements with over 25 customers, many of which have been with us for 5 years or more. Infogain has been successfully able to maintain long term relationships with many of its customers which is a testament to trust that the clients bestows on us.
Interviewer:- What are the services provided by Infogain to their clients?
"Mr. PK Karnik:- We provide end-to-end services from new age technology solutions like Cloud, Mobility, Analytics, Knowledge Management, Customer Relationship Management, Usability Engineering to support for legacy application maintenance & development, testing and Enterprise Services."
Interviewer:- How strong is Infogain in the digital services space?
Mr. PK Karnik:- Infogain has strong practice and dedicated teams for Usability Engineering, Mobility, Analytics, Cloud and Customer Relationship Management. We have a strong partner network with leading technology vendors, which further adds to our competency in the digital space. We are focusing on building our solutions, IPs, frameworks and accelerators in emerging technologies to bring in efficiency and fast-track the digital transformation journey of our clients. To iterate from one of our recent experience we proactively partnered with a leading clinical trial management company, one of our largest accounts, to help accelerate their digital transformation journey. Thinking pro-actively about how we could add value, Infogain's team identified the lack of real-time functionality as an issue with their clinical trial management project. After conducting market research, we developed a groundbreaking mobile version delivering significant added functionalities that were clearly needed by the users. The client was impressed with the POC; we then built the full mobile app on a risk-reward model, and the client has agreed to buy it.
Interviewer:- How do you see digital transformation happening in the enterprise space?
Mr. PK Karnik:- We are on the cusp of one of the biggest and most disruptive technological transitions of all times Business models are rapidly changing and there is a shift in the way we interact with our customers and how products and services are delivered and consumed today. Technology is enabling enterprises to take real time complex decisions, convert capital expenditure to operating expenditure, anywhere anytime access, reducing response time and creating multiple touch points to reach out to customers. The emphasis is now on speed, flexibility and choice more than ever and the comparisons are frequently with the likes of Google, Amazon and Facebook, even in enterprise space. In order to sustain in the long run, you need to change and evolve continuously by bringing in innovation, evolving products and services to suit the market needs. At the same time, you need to be more agile and adaptive to be capable of assessing how people's preferences, interactions, and consumptions will change in future and accordingly bring about new developments in business models, revenue sources and channels.
Interviewer:- Tell us about Enterprise Collaboration software like Oracle Knowledge?
Mr. PK Karnik:- Oracle Knowledge is an Enterprise search and Knowledge Management software which helps one to search through silos of vast information, both structured and unstructured residing in web, social media, e-mails, files, and folders. These help organizations to get fast and accurate information spanning all communication channels, from contact centers to field and sales service, thus enabling them to provide better customer service. Infogain has experience of providing CRM solutions for more than 15 years and has partnerships with leading companies like Oracle. We have completed more than 45 Oracle Knowledge Management projects in US, Europe, Middle East, India and China and have dedicated 65-member team for implementation, integration and support services.
Interviewer:- Is Infogain investing in Machine Learning or Artificial Intelligence?
Mr. PK Karnik:- Machine Learning and Artificial Intelligence is capable of bringing increasing intelligence to software where they will learn from examples and experience and will not depend on set-programming or coding anywhere. As mentioned earlier, Infogain has strong focus on new age technologies and we are constantly evolving to try and provide better solutions to our clients. We recently developed a new solution 'One Search' for Corporate Travel Management Companies. 'One Search' is a Big Data Analytics solution implementing Machine Learning Algorithms that will make travel booking easier by reducing search time for travel products from disparate data sources. The solution will also provide personalized recommendations for hotels, flights, car rentals, leisure activities and places of interest to a traveler by leveraging data from social media and data sources that capture purchase behavior of travelers.
Interviewer:- What is the vision of Infogain?
Mr. PK Karnik:- Our vision is to make Infogain a strong mid-tier provider in technology and digital transformation services.