Industry :

Corporate

Service :

Hyperautomation

Type:

News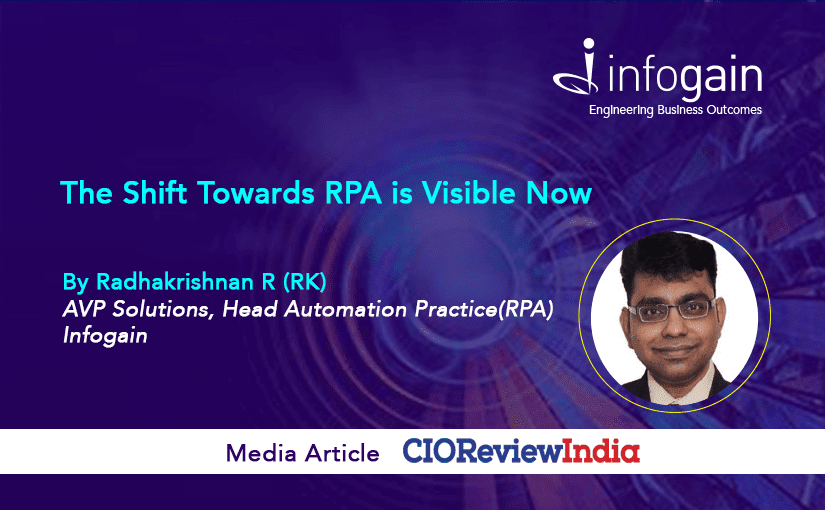 This is an exclusive interview with CIO Review India. Follow this link to view the original article.
Competitive View of Robotic Process Automation (RPA) Market 2020
India has become a booming market for RPA with an expectation to grow at a CAGR of over 20% from 2019-2025 (market study by Kenneth). And 86% of Indian respondents on the  Economist Intelligence Unit's survey reiterated their satisfaction with automation. Industry experts are leveraging RPA to become agile in their digital journey and are adopting various strategies to stay relevant in the market.
There are now a number of players providing the best of services to companies from different sectors-fintech, healthcare, logistics, Insurance, Telecommunications, Banking, Retail, and CPG, Public Sector, Manufacturing, FMCG, etc.
Looking at how things are going, India is all set to witness exponential growth in the next decade.
Explain Global IT Robotic Automation Market Analysis & Trends Industry Forecast
A recent report by Research and Markets mentions that the Global IT Robotic Automation Market is poised to grow strong during the forecast period 2017 to 2027, according to a 2017 report by Maximize Research at CAGR of 32.52% from 2017 to 2026, reaching USD 4000M.
Some of the prominent trends that the market is witnessing include increased convergence between RPA and AI, the shift in the model of operations with service providers, and an increase in the demand for outcome-based engagement. The service sector will also see huge demand because of the growing awareness of automation among organizations.
The BFSI application segment accounted for the largest revenue share in 2019 due to the increasing automation of business tasks, such as data entry, compliance regulations, and assembly and formulation, which results in increased speed, efficiency, and comprehensive insights. As the customers are inclining more toward cloud-based deployment over on-premise, the cloud segment will witness the growing adoption of RPA.
RPA is emerging as a disruptive technology with capabilities of providing benefits such as enhanced accuracy, compliance, cost-saving and scalability. What's your viewpoint on this?
From all the applications and use cases so far, it is evident that RPA can grow across industries and verticals – like a horizontal phenomenon. RPA streamlines repetitive processes and tasks otherwise performed by the human workforce based on certain rules for achieving an end objective. This helps reduce operational costs while increasing quality, accuracy and efficiency in output. RPA, despite its newness, is not as complex as other technologies.
At Infogain, we have deployed hundreds of bots for clients across the technology, retail, travel and insurance industries. With RPA, we have enabled many of our customers to process data from various systems with more than human accuracy, guaranteeing full-compliance and eliminating errors. We have also used the technology to automate auto-insurance for one of our customers and have enabled the vehicle damage assessment process for them. One example of this is how all the billing for the finance department and insurance companies are immersed in paper based back-office documentation process. Insurers regularly handle an exceptionally high volume of business processes like claims processing and underwriting, which creates a significant delay in time and affects customer satisfaction, business conversion, and profitability. The use of RPA will not reduce the time, save costs, but also improve accuracy. And, it is scalable wherein only bots need to be to manage increase in volume.
The RPA software is not as complex as compared with other technologies. Explain
RPA takes more of a business centric approach that allows even the business users to quickly develop and deploy bots. When thinking of deploying RPA and knowing the potential incremental output efficiency that it promises to deliver, one may worry about its complexities. Yet RPA is probably the most basic form of automation. RPA software automates repetitive, rules-based work tasks that rely on digital data. These tasks include queries, calculations, creating and updating records, filling out forms, producing reports, cutting and pasting and performing other high-volume transactional tasks that require moving data within and between applications.
RPA is just the beginning of the automation journey. Organizations across the globe are recognizing the benefits of incorporating artificial intelligence (AI) and machine learning (ML) within the RPA framework to result in intelligent automation. To put together a complete solution addressing certain business needs, we need to have a holistic approach and look into other sophisticated areas such as cognitive automation and seamless attended automation as well.
At Infogain, we have transformed clients' businesses by implementing innovative and integrated automation solutions ranging from RPA programs to enterprise-wide cognitive transformations on leading industry platforms. It is time for companies to embrace the next wave of automation, which includes cognitive elements and smart automation techniques.
The implementation of RPA software by both small and medium enterprises is increasing rapidly.
The increasing demand for autonomy has propelled virtual workforce acceptance and adoption among large enterprises. The large enterprise segment accounts for the larger market share for RPA. However, in this decade, the small and medium enterprises segments are projected to witness the highest share. With the implementation of RPA, they can improve their productivity and hence gain a competitive edge.
Presently, several small and medium-sized organizations have limitations in terms of cost; hence they are focused on keeping their operations as lean as possible. In the future, the need to bridge the gap between SMEs and large enterprises for increasing profitability, reducing operational costs, managing uncertainty will lead to a wider acceptance of RPA.
Companies in India took time to accept and adopt RPA, but the shift is visible now. The rate of adoption across enterprises is faster, and regardless of scale, RPA adoption has been highest across industries like BSFI, Retail, Manufacturing, Telecom, BPO and Travel & Hospitality.