Posted on :

July 22, 2016
Industry :

Travel and Hospitality

Service :

Analytics & Insights Services

Type:

News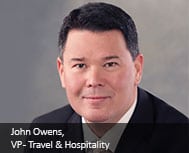 John Owens, VP – Travel & Hospitality, Infogain
Headquartered in California, Infogain is a global leader in providing IT services like Knowledge Management, CRM, Integration, Mobility, Software Engineering and Application Management solutions to organizations worldwide.
Travel and hospitality sector is a growing sector and the incessant development of travel and hospitality industry has been motivating the key industry players to embrace exceptional measures for enhancing business efficiency by improving overall customer experience. A lot of travel industry tycoons are eyeing the science of consumerism to take the pulse of the consumers. The industry giants are concentrating more on the dynamic behavior of consumers so that they can forecast business profitability generated by enhancing sales.
Consumers of the 21st century are more tech-savvy; thanks to smartphones that enable the Gen Y consumers to go for mobile bookings in the comfort of their home. In such a state of affairs, it becomes highly imperative to keep an eye on changing consumer behavior and make the most of the digitalized trends in travel and hospitality sector. Unfortunately, the truth is that more and more hotels adhere to the age-old norms instead of adapting to the modern trends. Being a data-rich industry, hotels and travel service providers should employ analytics to take advantage of the data to make huge profits.
Why Should Travel & Hospitality Sector Utilize Data Analytics?
Travel and hospitality sector underwent a radical revolution over the last decade owing to –
– Ever-growing technological innovation and digitization.