Posted on :

April 6, 2017
Industry :

Retail

Service :

Digital Transformation

Type:

News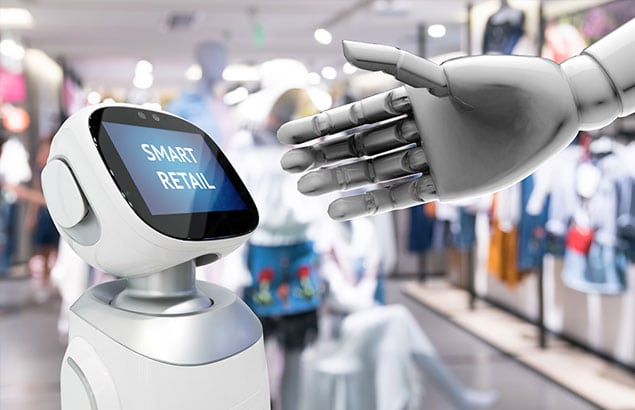 Retailers today have to deal with the tech-savvy millennial customers who prefer purchasing products using multiple touch points based on their device and location. The pace at which technological revolution is taking place in the retail sector and the ways in which these innovations are reshaping the behavior of consumers and their way of collaborating and communicating with each other to select products and services is the greatest challenge faced by the retailers at present. Nowadays, retailers are adopting an omnichannel strategy to touch base with the customers
across multiple channels. Digital technologies are transforming the supply chain, facilitating more data-driven decision-making, and enhancing customer experience. More and more retailers are embracing edge analytics, cloud computing, and the Internet of Things to facilitate frictionless retail.
Technologies Disrupting Retail Industry
Point of sale. Though it is not a new technological concept, point of sale (PoS) is undergoing a paradigm shift. Rapid technology developments are playing a key role in enhancing the market size of retail PoS systems by reducing cash transactions. Currently, PoS also serves as a point of service as retailers have been utilizing PoS in several ways such as – for assisting customers with product features, enabling customers to purchase a product from another retail store within the same chain, shipment tracking, instore pick-up for online shopping orders, inventory lookup, and much more. Moreover, some retailers also use PoS systems embedded with loyalty management system, customer relationship management (CRM) functionality, and customer data analytics.
Chatbots. Being the latest trend in the retail sector, chatbots are grabbing a lot of attention worldwide by becoming an integral part of the digital journey of customers. Besides automating retail processes, chatbots provide users with product recommendations, personal and in-store assistance, product updates, promotional offers based on location, and much more. Chatbots can be embedded into a retailer's app, website, call center IVR, or messaging apps such as Facebook Messenger, WhatsApp, Kik, etc. These computer programs make use of artificial intelligence (AI) AI and machine learning to respond to customer queries.
Augmented reality and virtual reality. Retailers are taking the advantage of both augmented reality (AR) and virtual reality (VR) to modernize the process of retail merchandising in a more effectual manner. With the help of AR, retailers are providing consumers with a real-time and real-life shopping experience. AR enables customers to try a product with the help of 3-D product preview before buying the same. Moreover, the integration of gamification into physical products creates a new level of customer engagement that inspires customers to quickly purchase the product.
Order-management systems. An omni-channel retail strategy calls for business process orchestration, scalable inventory management, and order fulfillment process. Retailers now have realized that it is more sensible to have the same type of assortment across various channels as consumers prefer, switching between devices seamlessly. Order-management system (OMS) streamlines retail operations by bridging the gap between digital and physical world to promote better consumer experience. Moreover, OMS also tracks orders besides managing returns or exchanges.
Visual analytics. Surveillance cameras installed in retail stores not only monitor the activities of customers but also allow retailers to make use of the camera footage to derive useful customer insights and store footfall. At the same time, heat maps allow retailers to know the specific products or sections in their store that generate the maximum or least customer conversion.
The author, Rikki Jolly is Vice President-Global Delivery, Retail, Infogain
News Originally Posted on: Communications Today