Posted on :

July 17, 2019
Industry :

Corporate

Service :

Software Engineering

Type:

Events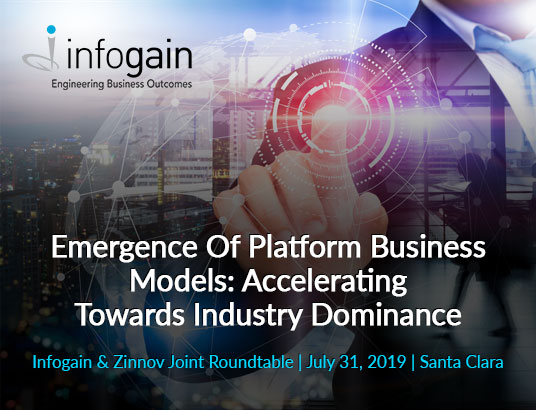 Emergence of Platform Business Models: Accelerating towards Industry Dominance
Infogain & Zinnov Joint Roundtable | July 31, 2019
Platform-led transformation is radically changing the way enterprises conduct business. Enterprises, large and small, are under immense pressure to differentiate themselves in an ecosystem inundated with innovative ideas and disruptive use of new age technologies. The platform economy has grown by leaps and bounds in the last decade or so, with 'platformization' emerging as a critical part of any digital business strategy.
To address this topic, Infogain and Zinnov will host an interactive roundtable discussion, "Emergence of Platform Business Models: Accelerating towards Industry Dominance," at the Santa Clara Hyatt Regency on July 31, 2019, 3:00pm-6pm PDT.  Attendees will:
Learn from business leaders, technology experts, industry veterans and influencers about strategies for successful adoption of the platform business model.
Discuss and debate key areas such as benefits of transformational platform-led business models, potential challenges in the adoption journey and best practices.
Hear from their peer's experiences; their challenges and success stories.
Speakers:
Nishith Mathur, Chief Solutions Officer
Pari Natrajan, Co-Founder & CEO, Zinnov
Infogain & Jitender Sethi, VP, Infogain
This invitation-only event will host 20+ senior Product Engineering practitioners, and IT leaders driving technology-related initiatives within their organizations.
For more information or an invitation, contact us at events.us@infogain.com