Posted on :

February 11, 2020
Industry :

Corporate

Service :

IoT & Azure

Type: Blog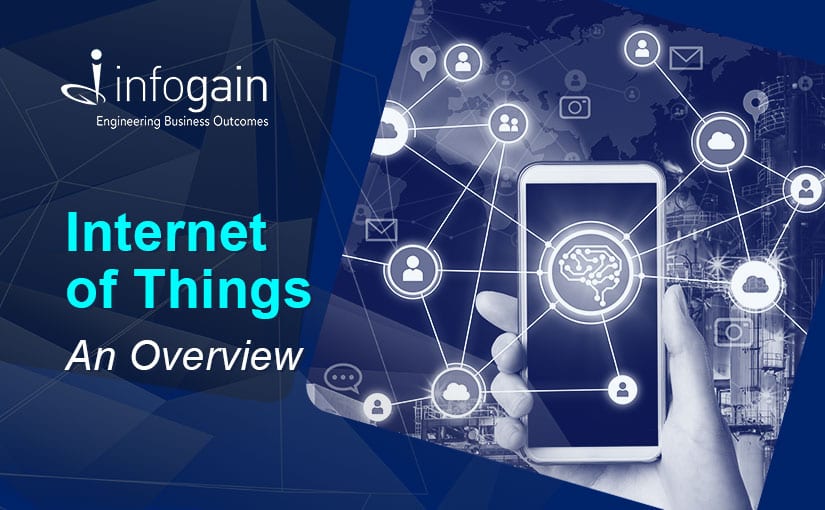 Last month Kevin VanHaltren, Business Director of IoT at Infogain, conducted an Internet of Things awareness session at our Noida location. He kicked off the session reminiscing about his first job in 2003 when one of the C-level executives from Walmart had announced that their organization was planning to use RFID (Radio-frequency identification) for inventory packing and asset management. At the time, Walmart had topped the Fortune 500 ranking of America's largest companies with a valuable market cap. This disclosure made every technology company stop, take notice, and want in on the RFID race.
Shortly thereafter, companies started evaluating RFIDs and stumbled upon many challenges. The common roadblocks that almost every organization faced were hardware storage, bandwidth, signal range and strength; capacity, lack of policy and guidelines on spectrum use, in addition to the excessive costs involved.
2020 has arrived, and we have surpassed all those earlier constraints. The bandwidth and hardware speeds have improved considerably. We have cloud computing, organizations can now purchase what they want and can scale their businesses as they grow. In short, RFID was one of the very early precursors of IoT, and today it is really taking off.
How to Leverage IoT Solutions to Build Competitive Advantage
Remote Monitoring: IoT enabled solutions to collect and analyze telemetry from connected sensors, devices, equipment, and other assets to ensure remote control, management, and real-time monitoring.
Smart Products: IoT connected smart products and solutions sense user's needs and respond accordingly, thereby enabling innovative experiences or capabilities.
Connected Digital Factory: Collect telemetry from industrial assets for visibility across manufacturing operations, gain insights, reduce inefficiencies or waste, control, and automate the process for operational gain.
Asset Tracking & Management: Use IoT sensors to track assets, monitor conditions, distill insights resulting in deriving greater efficiency and value from assets.
Process Automation: Enhance traditional control systems like PLC & SCADA with Industrial IoT, resulting in real-time data, intelligent edge, and analytics for smarter, automated, and autonomous processes.
Intelligent Kiosks: Use of IoT and AI powered smart displays, and intelligent kiosks can help deliver innovative, cognitive personalized, autonomous experiences across consumer, industrial, or field scenarios.
How the Enterprise can Identify & Approach an IoT Opportunity
Enterprises need to identify the customer's problem statement/business use case and explore the IoT opportunities they can provide as a value add.
Determine which cost effective sensors/device hardware can be used to solve the customer's problems. Enterprises need to assess whether they need to provide consumer facing solutions or if it is mission critical (for industrial/commercial, etc.).
Ascertain if the enterprise needs to contend with any legacy systems and installations or consider it as a greenfield opportunity. Enterprises need to determine which sensors/device hardware should be deployed in an indoor or outdoor environment.
Enterprises need to explore and utilize wireless connectivity options / constraints (Wi-Fi / Bluetooth / LoRa / Sigfox / Zigbee etc.)
Determine how the enterprise can take charge of the sensor/device hardware development/integration/installation?
From a business view, determine if there are any special security/privacy / regulatory / compliance requirement to be addressed.
Determine how Microsoft Azure IoT platform can be put to utmost use in an enterprise environment.
Determine the overall Total Cost of Ownership (TCO) for the project within the enterprise's budget.
Infogain's Azure IoT experts can help enterprises evaluate the following:
What's the use case – is it a New Product / Remote Monitoring / Asset Tracking / Predictive Maintenance / Process Automation?
What is the expected scale and geography after 1/3/ 5 years?
What wireless medium and protocol do we plan to use?
Determine the hardware engineering vendor or hardware OEM and assess how Infogain will work with the vendor?
What is the expected response time/performance for the solution?
What are Azure IoT components required to complete the solution?
What type of application development/integration is needed? Determine which programming language/platform will be used.
What type of alerting / reporting/analytics is needed for this solution?
Can we have Microsoft back us up as a partner to build credibility?
Determine the customer's key buying criteria. What differentiator must our proposal have to win the project?
The IoT Ecosystem
Following are the four components of IoT from the Data perspective:
Hardware: Data is created here and includes sensors, actuators, processors, and communication interfaces
Communication: Data is transferred here, with various protocols set forth to ensure that data reaches from the hardware to the platform
Software Backend: Data and all devices and networks are managed here, and this layer acts as an interface between other systems
Application Software: This is where data creates value. The users interact with this layer, and this is typically installed on smartphones, tablets, or computers
Sample Reference Architecture: IoT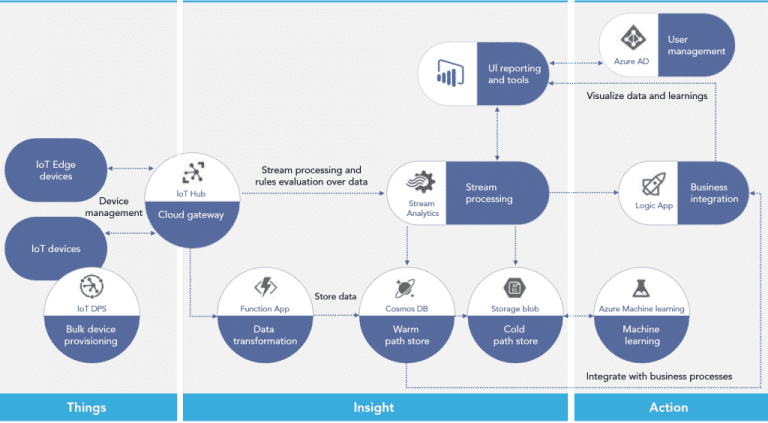 In conclusion, IoT will impact may key industries including Energy, Healthcare, Manufacturing, Consumer, Building, Life Sciences, and Logistics, and Transportation. The major IoT Enablers are IPv6, cheap sensors, cheap bandwidth, big data, wireless coverage, smartphones, and low-cost processing.
This insightful session on IoT was conducted by Kevin VanHaltren, Director, Global Marketing, who provided many interesting examples that made the session interactive, engaging, and fruitful. Infogain will be hosting more training sessions in the future. If you have questions on IoT and want to learn more about our training sessions, write to us at info@infogain.com.