Posted on :

April 13, 2020
Industry :

Corporate

Service :

Corporate

Type:

News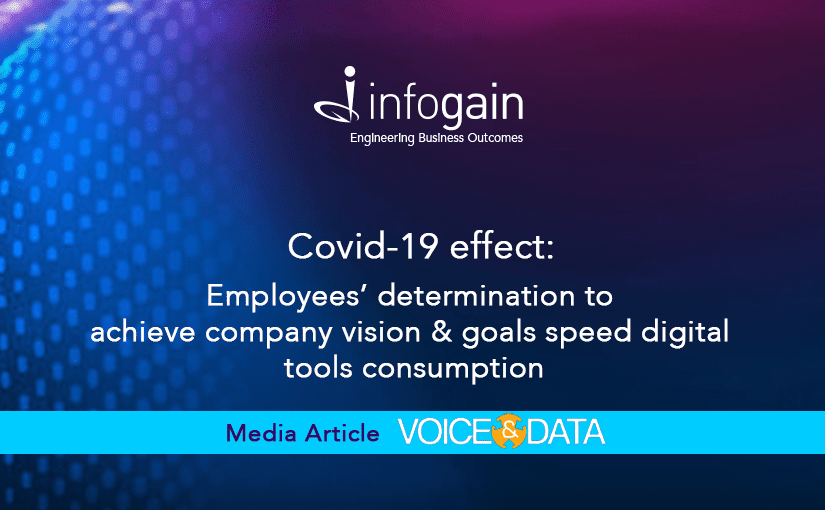 The following industry story appeared in Voice & Data, with quotes from Cathy Chandhok, CMO, Infogain and several other industry leaders on how they are working together with their employees to support clients through this lockdown. To read the original article, please click here. 
Covid-19 lockdown has taught India a few sweet (and bitter) lessons on the digital way of survival in the corporate world. Oxygen, electricity, and water – without which survival is at most difficult for a human being – has several new companions in the form of Zoom, Slack, Houseparty, Google Sheets, etc. These technologies might have come in handy during testing times like this Covid-19 lockdown where more than three-fourths of the world is working from home for close to a month.
Across borders, across organizations, these new-age technologies, and tools needed to be implemented and deployed at lightning speed. To act at a speed like that an organization's greatest asset – its employees – had to adapt itself with very little turnaround time. And this adaptation, superimposed with challenges posed by work from home, work for home, and work at home, is not easy. Unless the employee resolves to the new norm (of working from home) with a superior thought that there are tasks to achieve in company goals with the new-age tools, no Zoom, Slack or any other technology would have penetrated into the new working systems and protocols.
So, when employees are the asset, making them comfortable with digital tools to maintain productivity is not only important to keep the business going during these difficult times but it is equally important to keep the employees energetic and motivated.
A few of these opinions below by leaders of various organizations reflect how a strong commitment by their employees to perform their designated tasks harnessing the digital solutions provided to them is helping their establishments sail through the rough sea of Covid-19. The leaders have also ensured that their employees don't end up working all the time and have also taken the opportunity to introduce upskilling programs.
Cathy Chandhok, Chief Marketing Officer, Infogain: In business, we are taught to brace for eventualities and a business continuity plan is supposed to help us manage calamities such as fire, flood, or weather-related events or even cyber-attacks. But in the last few weeks, nothing has shaken the business world as this pandemic. Organizations have been forced to quickly adapt, learn and execute. 'Work from home' is one such development. The office atmosphere gives a camaraderie and belongingness that sitting at home working by oneself can be increasingly daunting. At Infogain, we believe that maintaining a disciplined work schedule will help, we are also encouraging our employees to do more video chats for work and to just bond, leveraging tools such as MS Teams or even Workplace! We have also set up helpdesks to ensure our employees are well looked after and know there is someone they can always reach out to. Our key executives, who are part of a task force are also available at the end of an email. And finally, we are utilizing this to do many information-sharing sessions in the form of webinars across our global locations – engaging as well as learning and keeping ourselves, our teams across active.