Posted on :

April 25, 2017
Industry :

Digital and High Technology

Service :

Cloud Services

Type:

News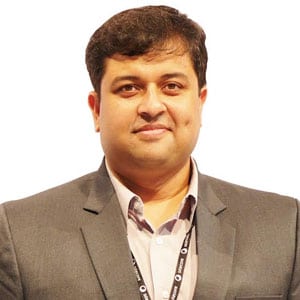 Pankaj Sabnis, Principal Architect, Cloud Computing, Infogain
• How do you see the benefits of cloud computing and how have you embraced it?
The cloud has revolutionized the technology landscape and is providing enterprises new abilities to deliver technology solutions to their users. With constant changes in technology and continuous demands on hardware and software provisioning, IT departments face a constant challenge in catering to ongoing needs and meeting business demands in a timely and cost-effective manner. With the cloud option, some of these challenges can be easily overcome. From a financial standpoint, for those organizations interested in converting Capex to Opex, the cloud provides the biggest advantage as it works on a pay-per-use model. For those organizations requiring a more dynamic environment, the cloud provides flexibility and ability to quickly ramp-up with on-demand provisioning or change over without significant overheads or loss of time. In addition, it also provides other benefits such as enhanced security and better performance due to the larger scale that a cloud provider operates in. The most interesting fact is that earlier 'Security' was the key concern for enterprises adopting cloud, while in a recent study by NetApp 56 percent of CIO's say security is the key motivation for cloud adoption, ahead of flexibility (55 percent) and cost savings (54 percent).
Cloud Computing is providing companies the ability to inexpensively host software, use flexible ERP systems with better functionality, ease access for users, store large data with cross functional visibility, quicker low or no cost upgrades, etc.AWS and Salesforce launched new services where enterprises can explore new technologies like AI and Machine Learning. The biggest advantage with cloud is you can experience the service on a smaller scale before the final plunge.
Secure Cloud Storage forms the backbone as it allows you to store, retrieve, and analyse huge amount of data in real time
Infogain is a strong provider of cloud services in the enterprise space and we cover the entire gamut of offerings from Consulting and Migration to Cloud Application Testing & Implementation. Our support services cover all 3 models of cloud deliver–IaaS, PaaS or SaaS. We are a certified AWS cloud partner and have strong partner network with other service providers–Azure, Sales Force, Century Link and Service Now. We have built-in frameworks and solution accelerators which give you absolute control on your public cloud and reduce your monthly cloud bills, minimum by 30 percent. We recently helped a leading network storage provider to move more than 100 of their core applications from data center to hybrid cloud environment. On internal front, Infogain runs some of its workloads on cloud. This includes few of its solutions/frameworks as well its own website.
• What are some of the other technologies, you think should be adopted in the near future?
IoT, Big Data, Machine Learning & Artificial Intelligence, Intelligent Apps and Advanced Security Architecture are some of the most sought after technologies in 2017. Each of these technologies has huge potential and will transform the businesses of tomorrow. Intelligent devices, sensors, IOT will produce huge amount of data which need to be analyzed to get meaningful insights. With AI and Machine Learning you can bring in complex analytical skills and get accurate real time insights. The interconnected devices coupled with automation and intelligence will create an ecosystem where machines can learn, adapt and act autonomously with minimum human intervention. These technologies will reshape every industry in the way they operate today from Healthcare, Consumer Good, Finance to Government. Intelligent machines will bring in a different kind of efficiency and accuracy and will perform much more than what they are programmed for. What was once considered impossible is becoming reality today from voice based devices, drones, chat bots to driverless cars.
Secure Cloud Storage forms the backbone as it allows you to store, retrieve, and analyse huge amount of data in real time. Cloud brings in the agility and speed required for these digital processes to operate. For e.g., Google's Enterprise Data warehouse, Big Query can scan terabytes of data in seconds to enable real-time analysis of vast amounts of data.
• Can you illustrate how Cloud technology is revolutionizing than ever thought before in 1-2 business segments in your work environment and is so critical for your business to succeed.
Gartner has predicted that worldwide public cloud services market is to grow 18 percent in 2017 to touch $246.8 billion. Cloud is redefining enterprise segment and will impact every application from ERP, CRM to collaboration and HRM tools.
T&H: The biggest advantage of cloud in the hospitality industry is it can improve the guest experience manifold by enabling them to provide personalized services. The travel & hospitality industry is facing challenges with demanding customers who expect to avail guest services at their fingertips. Investing in cloud technology allows hotels to mine through the customer data and personalize the services based on their past preferences. They can offer discount coupons to avail specific services like spa or offering a discount in their favourite dining restaurant in the hotel. It can also enable hoteliers to integrate with travel agencies, tour operators and provide a complete package to the guests. It also allows guests to avail multiple services from their mobiles using the hotel app. Hotel chains which operate multiple properties can integrate their hotel management software like CRM, POS, PMS to improve their operational efficiencies.
Retail: The retail industry is adopting cloud at a rapid pace and according to an Accenture study investment in cloud technologies is up from USD 4 billion in 2011 to USD 15 million in 2017. Cloud has multiple benefits for Retail segment. Personalization is key to win customers in retail. Cloud helps you to capture huge amount of customer interactions data in online, offline, at stores and through social media. It enables you to understand the customer sentiment, their preferences and offer customized products. It also enables you to understand the upcoming trends and develop products which will satisfy the future requirement of the customer. The biggest advantage is it can manage the inventory and give you real time update on the availability of stocks, new orders placed or shipping details.
The advantage for Insurance industry is that cloud can build a flexible ecosystem by connecting the field agents, the insurance company and third party service provider. It will allow them to respond back much faster to the customer needs. Traditionally installing and maintaining core IT systems in insurance like processing of policy, claims insurance was time consuming and used to consume most of their budgets. Moving these applications to cloud can bring in better collaboration, accessibility and transparency. It will enable insurers to be more customer-centric and engage with them more effectively.
Adopting cloud is the need of the hour whether to save costs, streamline your operations, launch new innovative products, improve time-to–market and most importantly for better customer engagement.
• What do you see as a big challenge in Cloud to meet the challenges of your industry? If you were to write down a wish list, what solutions do you look forward to and your expectations from technology providers for the enterprise?
Challenges: With cloud it's not yes/no anymore but how and when. Incorrect choice can create multiple challenges in enterprise. So people are sceptical. The biggest challenge is how enterprises answer the "how" part and make informed decisions on following parameters.
1. Choosing the Right Model that Your Business Needs
While moving to cloud it is important to choose a model–Public Cloud, Private Cloud and Hybrid Cloud after assessing your business requirement. This depends on the control vs governance policy that an organization would want to have on its infrastructure, post moving to Cloud. Private cloud provides maximum control while public cloud provides a lot of governance with maximum agility and scalability. Organizations need to analyze if they can get the best of both by extending private to public (hybrid cloud). Typically organizations prefer the core secure data to be in their premise with less-critical functions of the system residing in public cloud and accessing the on premise through a secure IPSec based tunnel that runs between the private cloud on premise and the public cloud.
2. Cost Savings
Cloud computing follows a utility based pricing model that frees you from your worries regarding optimum utilisation of the infrastructure and its capability to support peak hour requirement. While appointing a vendor, you should assess the billing rate (for peak and normal hours), whether the vendor charges a fixed cost for initial set-up, mentions a minimum contract period, minimum charges for compute and storage monthly. All these will take up the average cost on an upper side. Though cloud is looked at more from cost saving perspective, you should assess in the long run how feasible it is for the organisation.
3. Selecting the Right vendor
Selecting a right vendor is crucial as you are moving your server and your data to a third party. You also lose control to a great extent, and with a wrong partner, it may be a disaster. It is essential that you assess the right vendors and go through a rigorous evaluation process once you have decided to move forward.
4. Service Level Agreements (SLAs)
SLA's of the cloud service provider needs to be analysed thoroughly by reading the fine print and all clauses (with regard to security, maintenance and support services) should be clearly defined to avoid any confusion. Also look for third-parties involved in the operation and ensure that they are covered as well. Performance of the cloud provider needs to be assessed through a small POC. E.g. some providers provide 99.9 percent availability while some provide 99.95 percent availability. The higher the availability assurance; the higher the price. You need to determine what the minimum level of assurance you need, perform a cost-benefit analysis and make an appropriate choice.
5. Support Services
It is very important for the provider to provide the relevant support services along with a clear picture of the probable outages that may occur. The vendor should have a qualified team of engineers who will be able to provide 24X7 support. Support services are an important aspect while moving to cloud and it would be wiser to choose a vendor who can provide the requisite bandwidth. Cloud providers like Amazon Web Services and Microsoft Windows Azure offer a graded paid support service. Based on the criticality of the applications/data and the business needs, the right support option needs to be subscribed to.
6. Transparency
As we all know, managers are hesitant to move to cloud as they lose control on their crucial data, so it is very essential that we chose a provider who maintains transparency in terms of where the server will reside, what security measures will be taken, who all will be assessing the data from their end, and how do they authenticate those engineers, etc.
7. Security
A thorough due-diligence of security needs to be done before selecting the provider. Security being one of the key aspects while moving to cloud, vendor's security infrastructure and expertise need to be assessed. Though it is claimed that the cloud service providers maintain a high level of security in compliance with international standards, it is very essential for the users to be confident about vendor's security approach, data centre reliability, number of engineers accessing the data and the like. Many large cloud service providers are SAS 70 Type II, FISMA, and ISO 27001 certified, and are audited by independent, third-party security organizations.
8. Compliance Needs
The vendor must be compliant to industry specific regulations. Ensure that your cloud service provider meets all such needs as per your business requirement. In some cases the location of your data matters (legal compliance). So it's important to find out those aspects in details. E.g. if you are into healthcare domain providing services in USA, you need to comply to HIPAA and HITECH act, which are U.S. laws that apply to most doctors' offices, hospitals, health insurance companies, and other companies involved in the healthcare industry that may have access to patient information (called Protected Health Information or PHI). Microsoft is now offering HIPAA BAA (Business Associate Agreement) compliance guarantees on a number of Windows Azure core services. The BAA is a standard contract clause that is mandatory whenever a contract involves the use or disclosure of PHI.
9. Application Analysis
Application analysis needs to be done–does your software license allow you to move them to a cloud environment? A thorough analysis needs to be performed on the application to be migrated to cloud to ensure technical and economic feasibility. Whether the application can be moved to PaaS (Platform as a Service) or IaaS (Infrastructure as Service) can only be determined through an architecture analysis of the application.
10. Future Roadmap
It's very important to visualize the transition of the entire organizational processes after moving to cloud. All risks need to be identified and mitigation plans for each of them needs to be drawn. It would be wiser to come up with a cloud migration roadmap with various phases planned in detail. At the first phase, consolidate and move those apps and hardware that give maximum ROI with minimal risks and efforts. It is also better to compute the ROI obtained at end of each phase.
News Originally Posted on: CIO Review